Youngest-ever Nobel Laureate Malala Yousafzai visits Omaha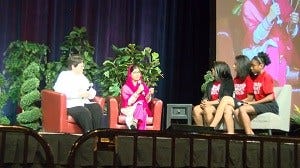 Posted by: Marlenia Thornton
mthornton@klkntv.com
A group of young ladies got a once in a lifetime experience Monday.
They welcomed 2014 noble peace prize recipient Malala Yousafzai, better known as simply Malala, to Omaha at the annual Girls Inc. luncheon.
The non-profit mostly serves at risk girls.
Thousands packed into the CenturyLink Center to see the youngest–ever Nobel Laureate spread her message of female rights and education.
"There is no loss in this. There is always profit. There's always a good bright future, so investment in this field is always important," 2014 Nobel Peace Prize Winner Malala Yousafzai said
Some of the Girls Inc members even got to engage in conversation with Malala on stage.
They asked about everything from school to her favorite hobbies.
They said they liked her calm, genuine spirit.
"It was like I was speaking to a friend. She's just a regular girl just like me, but to think about all the things she did was something so exciting," Girls Inc. Member Victoria Beaugard said.
The 19–year–old advocate knows struggle and perseverance.
In 2012, Malala survived a bullet to the head after a Taliban assassination attempt while going to school at the age of 15.
The director of Girls Inc. said she's a courageous teen who is up against threats of violence, but firm in her beliefs, which is something her girls can relate to as well.
"Too many of our girls are in the same shoes and they do relate to her. They think she's an incredible person for having that courage and she's an inspiration," Omaha Girls Inc Executive Director Roberta Wilhelm said.
The girls said Malala is a reminder for them to continue being strong, and smart and bold.
"It inspires me to never give up. Never quit no matter what happens. Don't let one thing ruin your future," Girls Inc. Member Eanijah Eston-Nash said.
Malala is the third Noble Laureate to be a keynote speaker for the annual luncheon.
Past speakers include then–senator Barack Obama, First Lady Michelle Obama and Warren Buffet.