Youth climate summit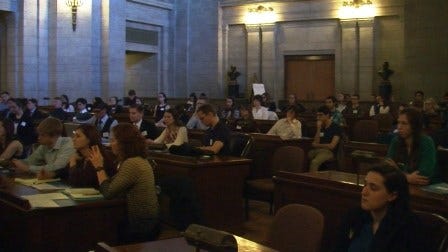 Posted by: Laurann Robinson
lrobinson@klkntv.com
Some state senators met with students today.. the hot topic? global climate change.
Global warming, not always the most popular subject, but as this group of young Nebraskans put it… necessary preparations could one day become a matter of life or death.
"This is terribly important. It effects our society at every aspect. Food insecurity is going to be a huge deal, so if you eat, you should be worried about it," said Haley Ourada.
Ourada is a sophomore at Creighton University, and is one of the 65, 15–25 year olds from all over the state, at Thursday's workshop on climate change.
Traveling in from Hastings, high school senior, Macie Clawson agrees that at some point, the effects of climate change will be among us.
Clawson says, "the first people that are going to be feeling the effects of climate change are these lower income people and people in third–world countries. And even though it's not cool or hip to like it, eventually it's not going to be an option whether it's cool or hip."
"It's up to us as politicians to start doing something about this. To start planning," said Senator Ken Haar of Malcolm.
There are different opinions on what causes global warming…
Senator Haar, the host of the event says, carbon emissions we put into the environment on a daily basis is the number one contributing factor.
But beyond learning how to combat the problem, today's youth need to learn how to get their voices heard.
Senator Haar adds, "the other thing we're going to talk about this afternoon is how to talk to elected officials."
Don Wilhite, a professor at the University of Nebraska says, "it's important for them to not only learn about the science, but also learn how to become activists on this issue and challenge elected officials, get involved in campaigns, get involved in community organizations."
At today's event, they said, if you'd like to lower your carbon footprint, you can start by doing things like recycling, composting, and using non–motor transportation, like riding a bike.