Zika virus now in Nebraska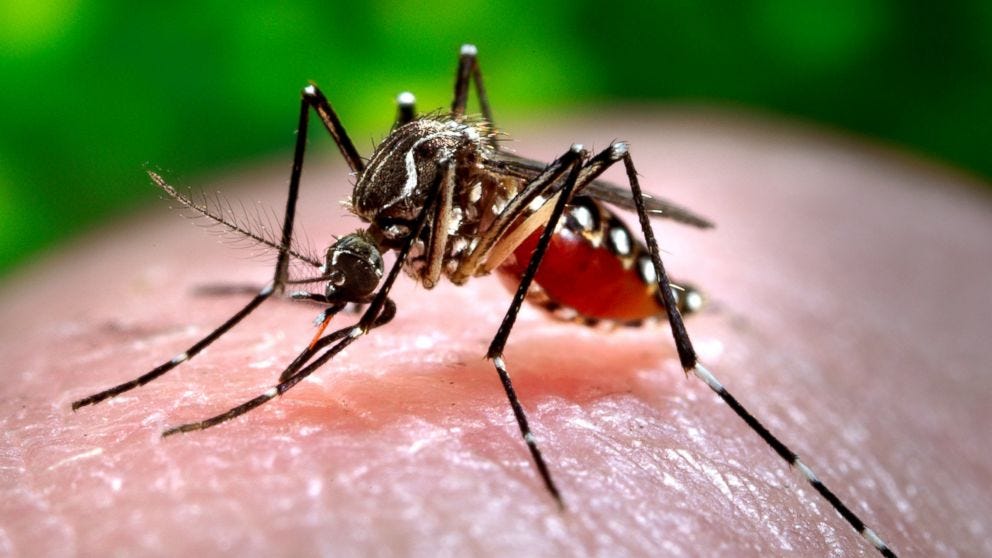 Posted by: Channel 8 Eyewitness News
8@klkntv.com
Zika virus has reportedly made its way to Nebraska, according to the Nebraska Department of Health and Human Services. Here is the release:
Two Cases of Mosquito-borne Zika Virus Reported in Nebraska
First Travel-Related Cases in State
Lincoln – The Nebraska Department of Health and Human Services received reports of two cases of travel-related Zika virus. These are the first cases in the state. One is in Douglas County and the other is in Sarpy County. Both people are females in their 20s who recently traveled to Zika-affected countries. Neither one was hospitalized. Zika virus is spread to people primarily through the bite of a mosquito. Although the virus usually causes mild illness according to the Centers for Disease Control and Prevention, there have also been reports of birth defects and other severe health consequences.
"Seeing a travel-related case of Zika in Nebraska is new but not unexpected. We were aware of confirmed cases among travelers returning to America from affected areas," said Dr. Tom Safranek, State Epidemiologist for DHHS. "It's very possible that we could see more travel-related cases here. This is a rapidly evolving situation, in the geographical distribution of Zika virus and what we know about its impact on human health."
"This is an important reminder for travelers to countries with the Zika virus, especially pregnant travelers and those of childbearing age and planning a pregnancy to take all precautions to prevent mosquito bites," said Dr. Adi Pour, Director of the Douglas County Health Department.
"Anyone developing symptoms within two weeks of returning to Nebraska from a Zika-affected area should notify his or her physician," said Shavonna Lausterer, Director of the Sarpy/Cass Department of Health and Wellness.
DHHS and its partners will continue to monitor the Zika virus outbreaks occurring in many countries including Brazil. Nebraska health care providers have received information on recognizing, managing and reporting Zika virus infections.

Fast facts about Zika virus according to the CDC:
• The Zika virus is transmitted primarily by the Aedes aegypti mosquito which has never been identified in Nebraska. Aedes albopictus might also transmit the virus. This species of mosquito is found in Nebraska but isn't one of the most prevalent. Both bite mostly in the daytime.
• Transmission through blood transfusion and sexual contact have also been reported.
• Four out of five people infected with Zika virus will never have symptoms. Those who do get sick, the most common symptoms are fever, rash, joint pain and conjunctivitis or red eyes. The illness is usually mild with symptoms lasting up to a week.
• There are reports of a birth defect called microcephaly in babies of mothers who were infected with the Zika virus while pregnant. Microcephaly is a rare condition where a baby's head is smaller than expected. Health officials are still investigating the potential link. More about microcephaly –http://www.cdc.gov/ncbddd/birthdefects/microcephaly.html
• The CDC recommends that pregnant women in any trimester consider postponing travel to areas where Zika virus transmission is ongoing. The latest travel health notices and information –http://wwwnc.cdc.gov/travel/page/zika-travel-information
• Public health officials are looking into reports of Zika virus-associated cases of Guillain-Barre syndrome from previous outbreaks. GBS is a rare disorder causing muscle weakness and sometimes paralysis. These symptoms can last a few weeks or several months.
• There is still a lot experts don't know about this virus. They're studying the science to learn more.
• There is no vaccine or specific medicine to treat Zika virus. The best way to prevent Zika or other diseases spread by mosquitoes is to prevent mosquito bites:
o Use a mosquito repellent containing DEET, picaridin, oil of lemon eucalyptus, or IR3535.
o Dress in long-sleeved shirts, pants and socks when you're outside.
o Stay in places with air conditioning or that use window and door screens to keep mosquitoes outside.
• Zika virus was first recognized in 1947. The first outbreaks occurred in 2007 and 2013 in the Pacific Islands. In 2015, outbreaks occurred in Brazil and other countries. Mosquitoes continue to spread the virus. Map of countries currently affected – http://www.cdc.gov/zika/geo/index.html
For more information, visit: www.cdc.gov/zika
For advice to travelers, visit www.cdc.gov/travel