Update: 2 men arrested in cigarette shop robbery attempt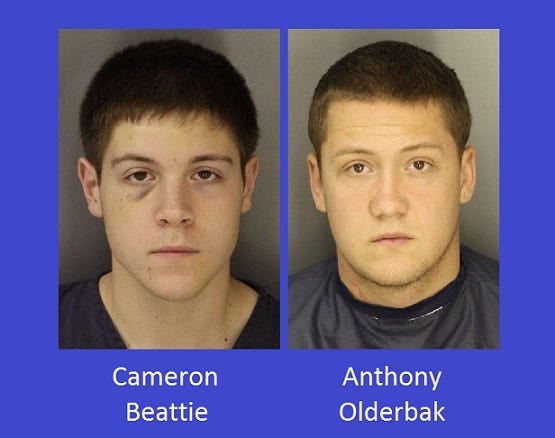 Posted By: Ashley Harding
Two would–be robbers are no match for a pair of ready cashiers. Now a week and a half after the crime, the suspects are behind bars. The robbery happened earlier this month at the Wicked Smoke Shop on West O street. The employees fought back with a taser and it was all caught on video! That's what led to the arrest.
Police have now identified the two suspects as Cameron Beattie and Anthony Olderbak, both 18. Police say surveillance video shows them walking into the Wicked Smoke Shop on West O street. They then confronted Jean Johnson and Mario Ostiguin inside. Mario is seen being grabbed by the shirt.
"I thought it was a joke. I think we both did at the time until we realized after Mario was grabbed, okay, this isn't a joke," said Johnson.
That was Jean Johnson's cue to act. She grabbed a taser tucked behind the counter and handed it to Mario, who fired it. One of the suspects was hit as they were leaving.
"I wanted to get one of them just to feel that I did something," said Ostiguin.
Police say Beattie and Olderbak weren't finished. They say they came back after store hours, broke in, and took cigarettes. A Crimestoppers tip led police to both men. They tell us Beattie was found with two scars on his back from the taser and the stolen packages of cigarettes were found in Olderbak's home.
For Jean and Mario, they're grateful everyone is okay.
"We're all very thankful. At least they can't do that again to somebody else," said Johnson.
"They could've had a weapon, they could've done so many things. I'm glad that they were just juveniles looking to try something and ultimately failed," said Ostiguin.
Beattie and Olderbak are both facing robbery charges. Police say additional charges could be coming.