A Lincoln couple takes engagement photos at Chick–fil–A
Two lovers decided to declare their love with a chicken sandwich.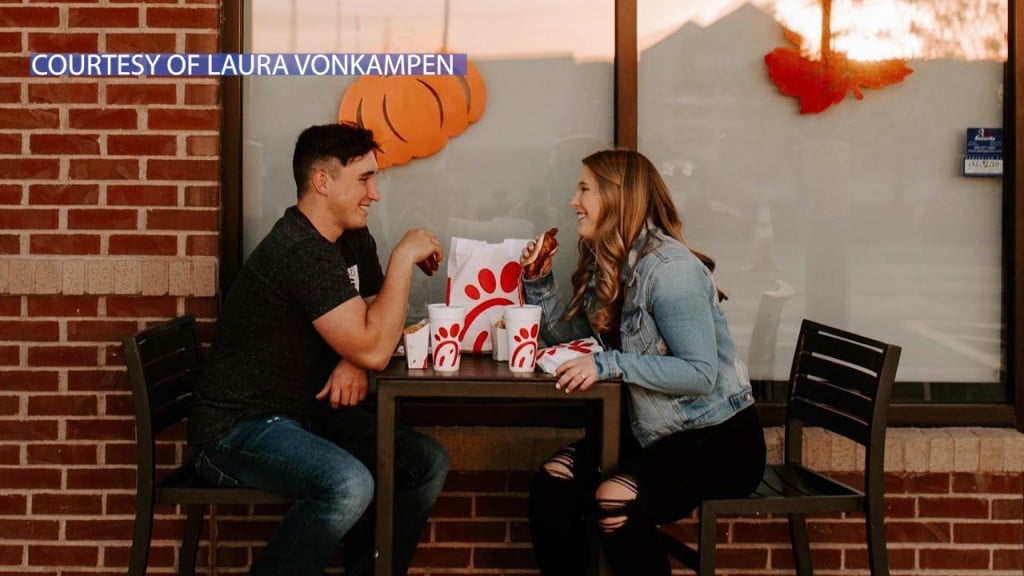 LINCOLN, Neb. (KLKN) — A Lincoln couple wanted to add a little twist to their engagement photos, so they took them at Chick–fil–A.
Cody Stertz and Amy Eisele both love Chick–fil–A and decided to declare their love with a chicken sandwich.
"So we told our photographer at the very end of our shoot we want pictures of us biting into Chick–fil–A sandwiches," said Eisele. "Then, she was like we should just go to Chick–fil–A to take pictures there, and it just kind of took off from there."
This comes after Cody surprised Amy in July with the proposal as they picked up their new puppy and stopped by a lake.
"Now we have a dog and the house, and we have our jobs, what is next?" said Stertz about the proposal. "And she goes 'A baby?' and I go, no Amy. There's something else in there."
He proposed, she said yes, and the announcement was next. The couple had some of their photos taken at the Chick–fil–A near 48 and O streets.
"We drove to Chick–fil–A, like, during rush hour, and since obviously, dine-in isn't available right now, we just had the entire parking lot in the front of the store to us," said Stertz.
"It was like 6:30 pm and people are going through the drive-through and we're like posing with our Chick–fil–A," said Eisele.
The photos have caught the attention of the local Chick–fil–A and you may soon see these photos on their social media.
As for the couple, they plan to get married on September 10th, 2021 and are set on serving their favorite fast food at the wedding.