A Lincoln family gives a pit bull a second chance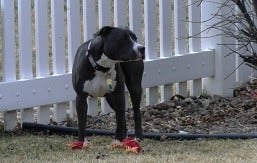 Posted by: Marlenia Thornton
mthornton@klkntv.com
Meet 2–year–old Chance.
He was adopted by Cindy Jones and her husband last September.
They got him from a rescue shelter after his former owner abandoned him last summer.
"I thought Chance…second chance. He's getting a second chance to live the life he was supposed to live," Chance's Owner Cindy Jones said.
Kelly Saxon was the pit bull's former owner.
He pled no contest to abandon or neglect of an animal.
Friday, he was sentenced for leaving the dog in the country last July.
Witnesses said the puppy was abandoned on a hot day.
Advocate Dani McArthur saw a face book post about the abandoned dog and called a search.
"If a dog is lost, you look. Whether it is someone's pet, they actually want back or someone who would do something this mean," McArthur said.
The defense argued that animals are property and are not people.
Advocates like the Jones family rallied for months for justice for Chance including sending letters to the prosecutor.
They're pleased about the sentencing and say it's important to be the voice for animals.
"They can't go to court and speak out. So, you have to have people that advocates for animals and that are going to protect their rights," Jones said.
Saxon was sentenced to seven days in jail and can't own an animal for five years.