A nurse shares why she will educate minorities in COVID-19 webinars
An Omaha nurse plans to talk about COVID–19 and how it impacts people of color in a webinar in Lincoln.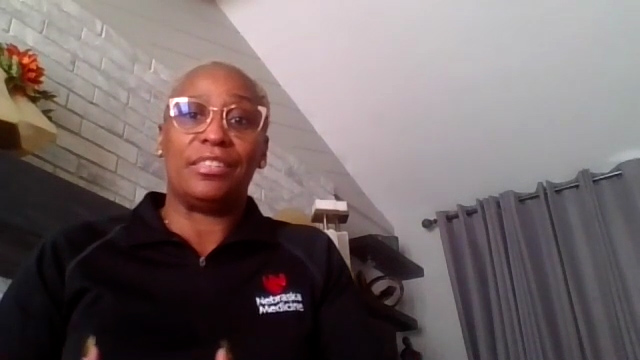 LINCOLN, Neb. (KLKN) — An Omaha nurse plans to talk about COVID–19 and how it impacts people of color in a webinar on Wednesday in Lincoln.
Shonda Ross, a clinical manager for Nebraska Medicine, says representation is important when health officials are reaching out to the community. She says it's vital to give people facts during this pandemic.
"I understand the fears," said Ross. " I would say what I would like to continue to do is educate people and give them the different sort of fears, and what's a myth, and what's a truth, you know, and then be sure that when you're looking at, articles that you use reputable sources. Don't just put something in google and take the first thing that comes up. Be sure when you're researching you're researching from reputable sources like the CDC guidelines, Nebraska Medicine has a web page and we have a lot of information on there."
 She says for communities of color, the doubt that COVID-19 is real is dangerous.  Ross says debunking myths is vital in helping everyone stay well as vaccines become more available. She will join with local leaders across Lincoln and Omaha to answer questions and give facts about the coronavirus and its impacts on the African diaspora in the state.
"We do online services in our ministry at our church to help continue to educate, inform everyone as a community health advocate, that I've been trained to do for the community as well. For me, I have taken the vaccine."
 Ross says she works alongside medical professionals and knows the hard work they do.  She says now is the time for people of color to ask questions, be educated, and take the steps to stay healthy in this pandemic.
 Ross said she shared the doubts about the vaccine as people of color often do, but she says working with people on the front lines made an impact.
"Originally I will say in transparency, I was like, no, I probably won't get ready it when it first comes out, ill wait and see," said Ross."But as I was helping at work with the swabbing tents when patients came to you, the guys were they were COVID and positive or not, I've seen a lot of sick people, a lot of scared people. And again how it just affected work and has changed our lives. I just had to have a talk with myself and I prayed about it and I feel like God does everything for me. And if I want to continue to be a community advocate as a leader in the community, a leader at work. Then it's my duty as a nurse to be one of the ones that get the vaccine."
She adds that telling your friends and family to wear a mask and wash their hands is a sign of love in these times.
"We're always concerned that you know about health disparities and fears or preventative measures that others get and we do not," said Ross. "Well, this is one that's open to everybody. If we as African Americans make the decision not to get the vaccine, we are only hurting ourselves."
 To attend the Straight Talk: A Virtual Town Hall Regarding the COVID-19 Vaccines and Implications for the Communities of the African Diaspora of Lincoln webinar Wednesday, Feb. 10, at 7 p.m. click here.
The passcode is 148199.
OTHER ONLINE TOWN HALLS THIS MONTH:
o   Feb. 18th – The Lincoln Chapter of the NAACP meeting on — 7 PM
o   Feb. 23rd – Online town hall with 4URBAN.ORG and the Charles Drew Center in Omaha 5 PM
o   Feb. 25th – Online town hall with Bluestem Health in Lincoln, — 3 PM
o   Feb. 25th – Online town hall New Era Baptist State Convention of Nebraska – 7 PM
o   March 13th –Online town hall Multicultural Coalition in Grand Island on the 13th – 5 PM