As teen vaping rises, FDA bans JUUL products from being sold in U.S.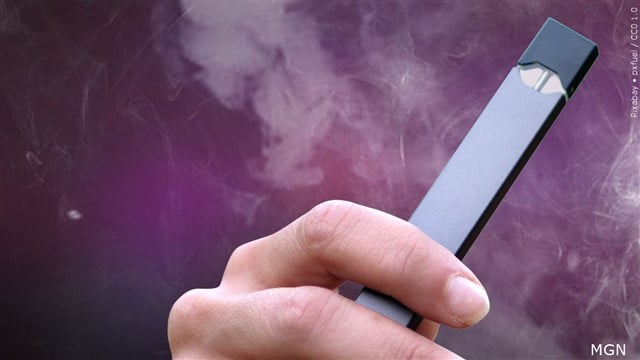 LINCOLN, Neb. (KLKN) – The U.S. Food and Drug Administration made the move to deny the sale of JUUL products in the United States on Thursday as youth vaping continues to rise.
The FDA issued marketing denial orders to JUUL Labs Inc. for all of their products currently sold in the U.S.
As a result, the company must stop selling or distributing its products, those currently for sale in the United States must be removed or retailers risk facing fines.
Products removed from the market include the JUUL device, Virginia tobacco and menthol-flavored JUULpods with nicotine concentrations of five percent and three percent.
"Today's action is further progress on the FDA's commitment to ensuring that all e-cigarette and electronic nicotine delivery system products currently being marketed to consumers meet our public health standards," said FDA Commissioner Robert M. Califf.  "We recognize these make up a significant part of the available products and many have played a disproportionate role in the rise in youth vaping."
The FDA's decision only pertains to the distribution, importation and sale of the products.  The administration says that they "cannot and will not enforce against individual consumer possession" or use of tobacco and JUUL products.
After a review of the company's tobacco applications, the FDA determined that there was not sufficient evidence to prove that the sale of the products would be appropriate for the protection of public health.
Some of the company's study findings raised concerns due to insufficient and conflicting data regarding the toxicity of potentially harmful chemicals in JUUL pods.
To date, the FDA has not received clinical information to suggest an immediate hazard associated with the use of the JUUL products.
They say there is also no way to determine potential harms from using other authorized or unauthorized third-party e-liquid pods with the JUUL device.
JUUL users who will not have access to JUUL products following the decision or current smokers who want to transition away from cigarettes and cigars may decide to switch to other products that have been reviewed and authorized by the FDA.
Learn more about the FDA's decision here.