Bailey Boswell trial focused on sex, torture and witchcraft on day 11
On Wednesday, a woman testifies to the lifestyle that Bailey Boswell lived in the months before Sydney Loofe's disappearance and death.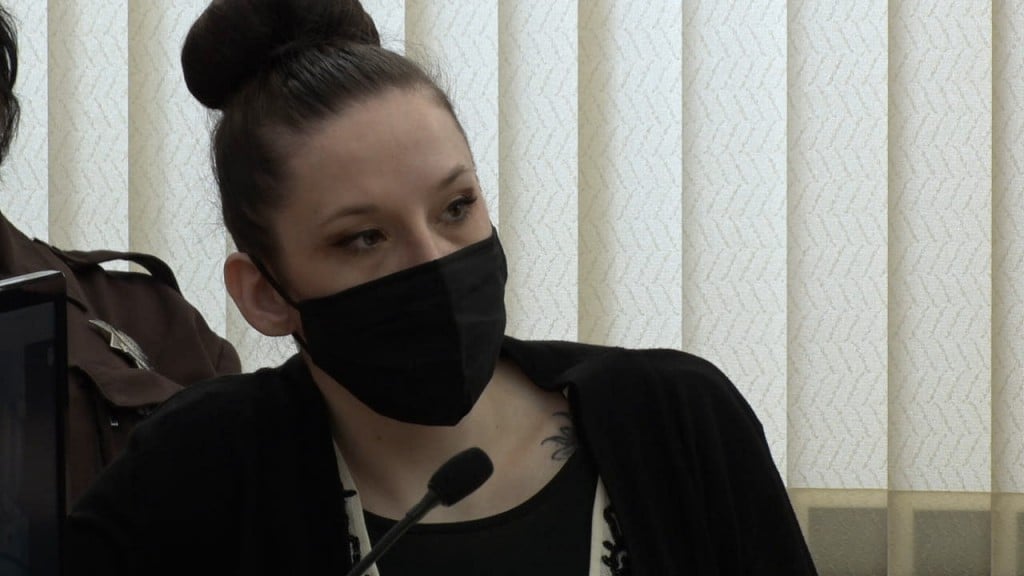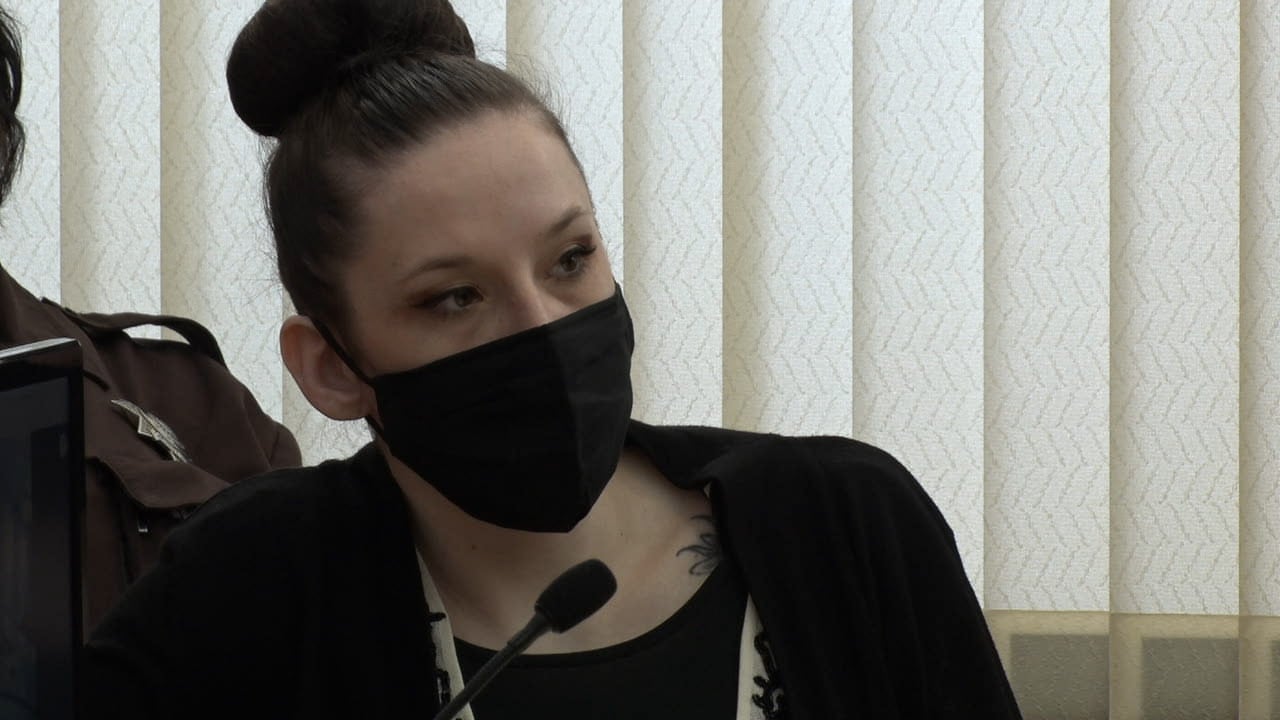 LEXINGTON, Neb. (KLKN) – Day 11 of the Bailey Boswell trial consisted of testimony from women who had previous relationships with Boswell and her boyfriend Aubrey Trail in the months before Sydney Loofe's disappearance and death.
The testimony comes forward as the prosecution attempts to show the kind of lifestyle Boswell lived before meeting Loofe, a 24-year-old woman from Neligh who was living in Lincoln. Boswell is accused of her murder after the two met on Tinder in November of 2017. Trail was convicted of the first-degree murder of Loofe in 2019.
The first witness called to the stand on Wednesday morning is Ashley Hills, who testifies that she met Boswell on Tinder, the dating app, during the summer of 2017. At the time, Boswell was using the alias 'Jenna.'
Hills tells the jury that 'Jenna" advised her that she had a sugar daddy who would pay her bills and take care of her. A sugar daddy is typically an older man who spends or gives money to younger women, typically a girlfriend or mistress.
'Jenna' eventually told Hills that the sugar daddy would like to meet her, and they talked on the phone. scheduling a time and place for them to meet, which resulted in Hills being picked up by Aubrey Trail. During their first interaction, Trail drove Hills to his apartment in Wilber where he showed her a variety of items, including cash and coins, and photos of several other women.
After spending a few hours with Boswell and Trail, they gave her $200 in cash, telling her if she decided to be a part of their group, this would be her weekly allowance.
"I enjoyed being taken care of," Hills tells the jury after testifying that she decided to be part of Trail and Boswell's arrangement.
The relationship between the three continued for months, and Hills says Trail would often pay her rent and car payment, give her money for marijuana, food and small luxuries like getting her nails done. The three would also engage in sexual activity together, which included the use of sex toys owned by Boswell and Trail.
When asked by the prosecution about sex toys, Boswell's defense objected. The judge overruled the objection and addressed the jury saying, "testimony about sexual activity or sex toys should be considered for intent and motive only, and not as a reflection of character."
As part of their arrangement, Hills was required to follow a series of rules that included referring to Trail as 'daddy,' spending the night at their apartment once a week, check in with Trail every three hours, not talking to other men, being honest, and being naked while at their apartment, however she says she wasn't required to follow that rule. If she broke these rules, she says Trail whipped her with a belt. She was whipped on three or four occasions.
Throughout the morning, Boswell appeared emotionless in the courtroom, taking notes and whispering with her attorneys.
Hills also testifies to becoming part of their antiquing business, and testified that Boswell would steal the items they were selling and eventually Hills was expected to do the same. Boswell's defense objected to these claims, but again was overruled.
Hills testified that as they spent more time together, the topic of witchcraft and sorcery began. Boswell told Hills she was a witch, and her power was as a 'healer' and Trail told her he was a vampire and that he could fly.
According to Hills, the couple told her that in order to become a witch, she was required to "take someone's last breath." Hills tells the jury that at the time, she believed Boswell and Trail's stories about witchcraft and, but doesn't anymore.
On multiple occasions, Hills says she had conversations with Boswell and Trail about killing people in order to become a witch, including a time when the group was at Walmart in Beatrice. During that trip, Trail had met with a woman there and later asked Hills if she would be interested in killing her. Hills responded yes, but they never followed through.
Hills revealed conversations she had with Boswell about wanting to torture people and how they would do it. Hills claims Boswell told her she would like to 'pour acid into someone' and burn them.
"What was her demeanor like during these conversations?" asked prosecutor Sandra Allen. "Joyful," Hills replied. "Her eyes would light up." Boswell also indicated to Hills that she was 'turned on' sexually by torture.
Hills expressed that she also often fantasized about killing her father, who she said sexually assaulted her but didn't indicate when. Hills was 20 when she met Boswell and Trail in 2017.
Hills also talks about another member of their group, Anastasia 'Ana' Golyakova, who was a 'body watcher' in the realm of witchcraft. She was told that monthly, the witches along with Boswell would go to a cornfield and 'leave their bodies' and Golyakova was tasked with watching and guarding their bodies while they were gone. Golyakova is expected to testify this week.
On several occasions, Hills would take trips to Branson with the couple, and Golyakova would come. Hills revealed that Boswell and Trail were plotting to kill Golyakova for being 'annoying' and breaking some of the rules they were required to follow. The group planned a trip to Pennsylvania together, and it was understood that Hills would help Boswell and Trail kill Golyakova on that trip.
Hills explains that she isn't totally sure what 'snapped her back into reality,' but it happened while she was preparing for that trip to Pennsylvania. Hills says she had a panic attack one day at TJ Maxx and expressed to Boswell that she wanted to leave the group. The two women left the store, called Trail and told him that she wanted out of the group.
After leaving the arrangement, Hills had few interactions with the couple, but was told if she told anyone about their conversations and arrangements that Hills and her family would be killed, and expressed fear about that threat.
During cross examination, the defense seemed to focus on on Aubrey Trail and his relationship with Hills. When asked about what she thinks of Trail now, Hills responded "I think he's a psychopath."
After the midday lunch break, testimony continued with Heidi Ellingson, a forensic analyst who is employed at the Nebraska State Patrol lab. Ellingson testified to multiple items from Boswell and Trail's apartment in Wilber that were sent to her lab for forensic testing. Of the items, she was sent five different box cutters, three pieces of carpet, and three plumbing pipes.
On the five box cutters and three pieces of carpet, Ellingson says presumptive blood tests were done on all of them, but none of them generated a positive result. However, after swabbing the inside of the plumbing pipes, the presumptive test was positive for all three pipes. When a confirmatory test was done on the pipes, the result was negative.
Sandra Allen with the prosecution asked Ellingson if there are other chemicals that may cause a false positive on a presumptive test. Ellingson says she has seen studies that show some chemical cleaning agents, for example, Drano, could cause a false positive but she can't be sure.
Ellingson also testified briefly about sex toys from the Wilber apartment that she tested, after Todd Lancaster for Boswell's defense asked. Of the 16 sex toys she tested, Lancaster asked how many of them resulted in a match with Sydney Loofe's DNA, and Ellingson said none.
During re-cross, Allen asked Ellingson if any of the DNA found on any of the sex toys resulted in a mixture of DNA profiles, and Ellingson said yes. She said Loofe couldn't have been excluded from those mixtures.
The final witness on the stand Wednesday was FBI Special Agent Eli McBride, who has testified several times in the case already. McBride was asked about several items that were found in close proximity to Loofe's body in Clay County, including a Walmart bag that contained a stained and discolored t-shirt and socks. McBride says on the final site in Clay County, a pink sex toy and its box was recovered less than half a mile away from a white jacket, which investigators believed to be Loofe's.
Boswell's defense once again objected to testimony about the sex toy, but was overruled.