UPDATE: Crews battling grass fire northeast of Lincoln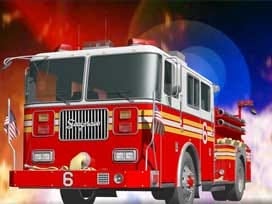 By: Kayla Bremer
A busy day for firefighters! It took several crews and several hours to put out a large fire just north of Lincoln.
It was a cornfield that went up in flames. There's a good chance you probably saw it as smoke could be seen billowing for miles. With dry conditions and strong winds, another field northeast of Lincoln caught fire and burned for several hours. The field area was between 98th and 112th streets and Raymond and Branched Oak roads. No structures were affected by the blaze but houses were uncomfortably close sitting on the field's edge. Chris Sasse lives nearby.
"It was a little worrying. It kept burning south and closer and closer to houses and we were getting a little bit worried for a while cause they kept having flare ups," said Sasse.
The smoke could be seen 20 miles away. 40 firefighters helped in the effort to control the flames, but winds gusting up to 25 mph from the south played a major role in how quickly the fire spread.
"We were dispatched this afternoon to 98th and Raymond road. Had a report of a grassfire. we got here, there was heavy fire. We ended up calling a total of seven departments and we pretty much have the fire under control at this time," said Brad Pfeiffer of Waverly Fire & Rescue.
Pfeiffer says the fire made its way into a tree line that could take up until Monday to get all the way under control. Residents who live nearby watched as firefighters sprayed the scorching field.
"The fire department was going down the line putting it out. They'd get 200 yards away and the fire would pop back up behind them and they'd just keep going down the line and turn around and go back. They'd hit the flames again and that went on for, I don't know, 3 hours," said Ryan Pettigrew.
No homes were involved in the fire. The Waverly Fire Chief says roughly 180 acres were burned, but they do not yet know what sparked the blaze. The cause is still under investigation.