Update: Suspect in gun disturbance cited by police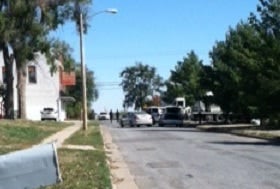 By: Megan Palera
8@klkntv.com
UPDATE: The suspect was holding a toy gun and acting distraught before Lincoln police arrested him.
Police say 52-year old Randall Moore was sitting on the curb at 12th and Belmont and what appeared to be a hand gun. Around 1:30 p.m., authorities immediately surrounded the area and shut down Belmont.
Two schools were on lock down and guests at the Holiday Inn Express were told to stay away from the windows. Within minutes, the 52-year-old Lincoln man was taken into custody. Traffic was also shut down on Cornhusker Hwy between 11th & 14th.
"At one point, one of our sergeant's made voice contact with him over the PA of his police cruiser, called the man out to the middle of the intersection where we took him into custody without incident, " Captain Joseph Wright said.
Police say Moore was holding an air soft pistol. They say he's under a great deal of stress and will have meet with a mental health professional to get help.
Police say Moore was cited for disturbing the peace and failure to comply because he would not sign his ticket.