Nurse at Bryan Health shares struggles of working in the ICU
"Its very hard knowing that besides maybe a family member, I was the last voice that they heard, the last face that they saw, its tough." said Marissa Elkins, nurse at Bryan Health.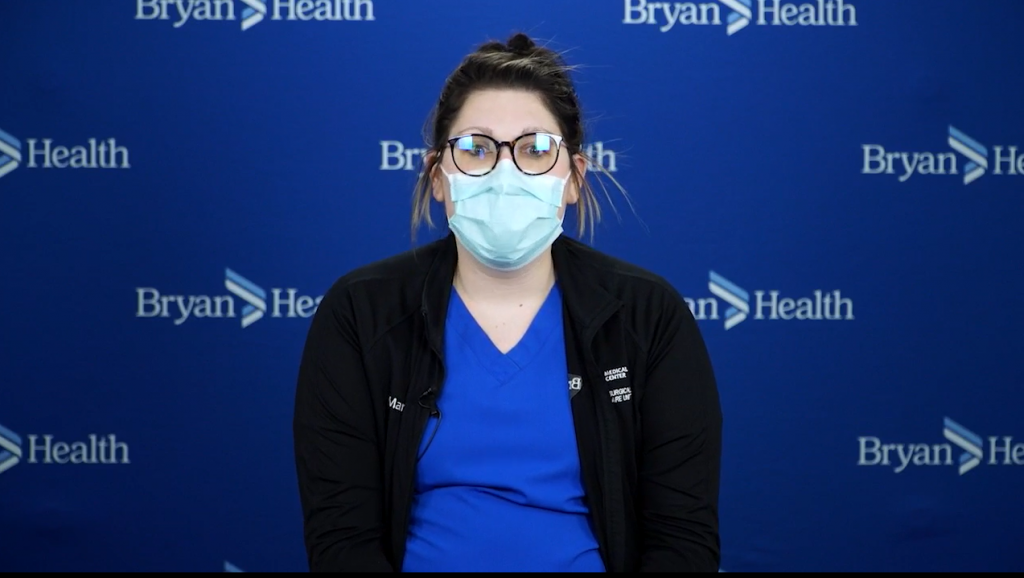 LINCOLN, Neb. (KLKN) – Marissa Elkins has been a nurse at Bryan Health for 3 years in the Medical-Surgical Intensive Care Unit, today she spoke in a press conference about the struggles of working throughout the COVID-19 pandemic.
According to Bryan Health, 11 covid-19 patients have died since December 28th.  The recent deaths make up just over two percent of the 421 deaths Bryan Health has seen since the beginning of the pandemic.
Elkins stated that the easiest way to describe a typical day in the ICU is "exhausting."
During the first wave of COVID-19, many patients were grandparents or fell within the age group, these patients were sick for weeks.  Patients would remain on ventilators for a longer period of time with respiratory failure as the primary cause of death.  Now, patients coming in are much younger, many of them parents, and are dying quicker.
Elkins said that if a patient is checked into the ICU and on a ventilator, they are likely to never leave.  Under new COVID variants, patients that enter the ICU are developing multisystem organ failure.  The patients must become medically paralyzed while on ventilators to have the best chance of recovery.  Doctors and nurses are being required to make more decisions on who should be removed from ventilators to die peacefully and who should remain.
Elkins received her first dose of the vaccine shortly before giving birth to her daughter and expressed how relieved she is with her decision.  "After seeing multiple new moms die of covid and never meeting their babies, I'm more and more thankful that I did get vaccinated," said Elkins.
Bryan Health is not currently testing for specific strains of COVID-19 since the treatment of each patient remains the same.