"Dumped like trash," state rests case against Bailey Boswell, jury hears closing arguments
The prosecution called their final witness Tuesday morning and rested their case against Bailey Boswell, accused of killing 24-year-old Sydney Loofe in November of 2017.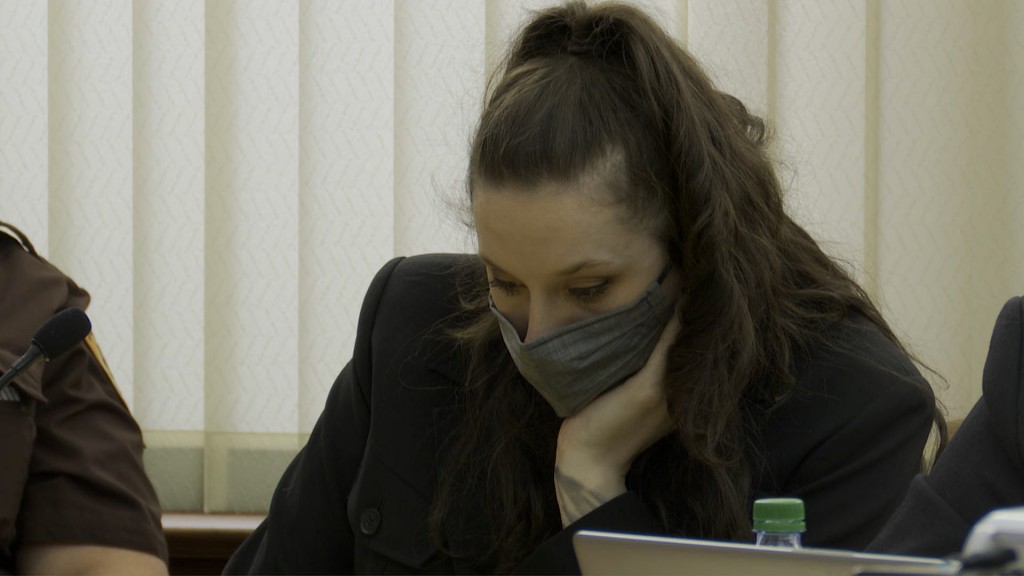 LEXINGTON, Neb. (KLKN) – On day 14 of the trial against Bailey Boswell, the prosecution called their final witness to the stand, presented their final piece of evidence and rested their case.
Boswell's defense declined to call any witnesses on Boswell's behalf, resting their case Tuesday morning as well.
The jury also announcing they will wait until Wednesday morning to receive the case and begin their deliberations.
The state called FBI Special Agent Mike Maseth to the stand to tie up loose ends on evidence that the jury had already seen. The state reiterated phone data that tracked Boswell's movements as she was messaging with Sydney Loofe on Tinder, along with her and Trail's travels in the days following Loofe's disappearance.
The state also showed again that the tools purchased by Boswell and Trail that were allegedly used to dismember Loofe were never found.
The final piece of evidence presented by the state was the phone call between Bailey Boswell and LPD Investigator Cameron Cleland on November 18th.
"You're the last person that saw her, and you're not giving me the information I need," Cleland said on the call. Boswell responded, "I am telling you everything that I know."
During the 15 minute phone call, Boswell could be seen in the courtroom staring at the ground and the jury listened to her dodge questions from the investigator just days after Loofe's disappearance.
Following the prosecution resting their case, Boswell's defense opted not to call any witnesses on Boswell's behalf. Instead, Todd Lancaster filed a motion to dismiss every charge Boswell is facing, citing that the state had not provided enough evidence to prove them. Saline County judge Vicky Johnson overruled the motions.
Mike Guinan, Assistant Attorney General, began his closing arguments for the state's case just before 11 a.m. Tuesday. Guinan talked about Boswell and Trail's pattern of recruiting women, forcing rules upon them, introducing them to a world of witchcraft, and then talking to them about torture and killing.
Guinan walked through the timeline of events, bluntly connecting the evidence that has been presented to the jury to Boswell's intentions and fantasies.
"After months of fantasies excitement, orgasmic excitement about torture and killing, I'm suggesting to you that Miss Loofe was pounced upon, and it wasn't long after she got into that apartment." Guinan said when addressing Loofe and Boswell's date on November 15, 2017.
"I'll tell you she died on that floor in that apartment that night. Looking her killers in the eyeball, in the face. Eyeball to eyeball as she fought for her life," Guinan said to the jury.
Guinan later showed the jury again the discolored bed sheet that was found on the scene, and reminded them that it matched the bed sheet from Boswell's bed in her apartment from Wilber. He also showed the jury the star-printed pants that were discolored and found on the scene that were strikingly similar to the pants Boswell was seen wearing in a selfie taken from her cell phone.
When it comes to finding no DNA evidence of Loofe in the Wilber apartment, Guinan said it's clear the lengths Boswell and Trail went to.
"This was a dismemberment and we didn't find a drop of blood in that apartment, which will tell you of the planning and preparation taken beforehand, the care taken to dismember her during, and the efforts taken afterwards to clean up and dispose of her. Pre-meditation, pre-meditation, pre-meditation."
Guinan wrapped up his closing arguments Tuesday by asking the jury to return guilty verdicts.
"Ladies and gentlemen we are asking you to return guilty verdicts on all three counts. We're not asking because we demand it, we're asking because the evidence demands it, the facts demand it, and because the state has proven each and every element of the counts charged as you'll see during jury instruction, therefore the law demands it. Thank you."
Todd Lancaster from Boswell's defense began his closing arguments Tuesday afternoon by addressing things that were mentioned during the state's arguments.
"They don't really know what happened when Sydney Loofe got to Wilber. They told you she died within 20 minutes and she died being choked, looked in the eyes at the person that was choking her. They don't know that," Lancaster said.
At one point, Lancaster referring back to the state's opening arguments when they said this trial is about Boswell, and not Aubrey Trail. "Talking about this case without talking about Aubrey Trail is like talking about the Titanic without mentioning the iceberg." Lancaster painting a vastly different picture, calling Boswell a victim of Trail herself, like the other women who were driven and manipulated by him for money or out of fear.
"She had been the victim of domestic abuse from her child's father. She fits that type, that mold, a person Trail was looking for to be someone he could take advantage of."
Throughout his hour long closing argument, Lancaster saying several times that the state was feeding the jury their agenda. "The state is pushing their narrative onto the facts of the case and it doesn't fit."
Boswell's defense also argued that the state didn't need to repeatedly show the jury the grim and gruesome photos of Sydney Loofe's body and autopsy.
Lancaster told the jury that Boswell's interest and sexual desires that were related to torture and killing was never planning for a future murder, like the state argued. He says it's a sexual role play, and 'odd turn ons' and was never part of a reality that Boswell wanted to experience.
Finally, Boswell's defense argued that all the evidence presented by the state points to Aubrey Trail committing the murder of Sydney Loofe, not Bailey Boswell. He said the chopped up extension cord that was found near Loofe's body had Trial's DNA on it, and that he could have used that as a ligature to strangle Loofe.
Comparing Boswell's size to Trail's, he asked the jury to think about who really could have been capable to strangling Loofe that night in 2017.
"You need to consider whether or not they [the state] proved she had a hand in the killing, the evidence doesn't support that. It shows Aubrey Trail, or whether it shows she somehow aided and abetted Aubrey Trail in the killing of Sydney Loofe," Lancaster concluded with.
During the state's rebuttal argument, Mike Guinan said the testimony and the evidence shows that Boswell was not a victim, and that she was acting an thinking on her own accord.
"They fed off one another, complimented on another, amplified one another. But none of this gets out of the starting gates without Boswell. She's the beginning of this. Without her we don't have a victim," Guinan said.
Jury deliberation will begin Wednesday morning.