Duncan Aviation announces expansion plans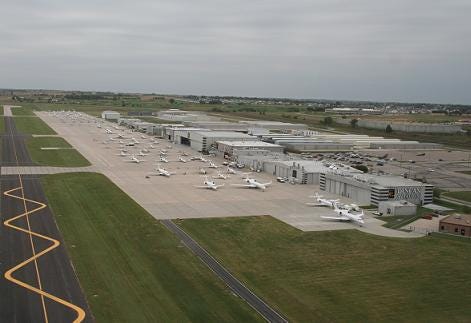 Duncan Aviation announced the company will expand it's paint operations in Lincoln.
Duncan is a premier aircraft maintenance, modification and refurbishment service provider headquartered in Lincoln.
Duncan officials made the announcement Friday morning. The expansion, set to begin this spring, will add a new paint facility with 45,000 square feet to the existing 440,000-square-foot facility located on the east side of the Lincoln Airport. Ground-breaking is tentatively scheduled for May 1 and the expansion is scheduled to be complete by April 30, 2012.
"Given the significant hit the aviation industry took during the recent recession, we are pleased to be able to look at an expansion plan," said Aaron Hilkemann, President of Duncan Aviation. "We continually evaluate our customers' needs and how the capacity of our facilities allows us to meet those needs. Over the last decade, our customer base has continued to purchase larger aircraft while our paint facilities in Lincoln have remained the same for 20 years. We need to have a larger paint hangar to provide full exterior paint services to customers who fly larger business aircraft."
Todd Duncan, Chairman of Duncan Aviation and grandson of company founder Donald Duncan, said the expansion will allow Duncan Aviation to be well-positioned among competitors and provide the ability for the company to continue to capture market share.
"Mayor Chris Beutler, John Wood with the Airport Authority, and Wendy Birdsall with the Lincoln Chamber of Commerce have all been instrumental in helping to move this project along," Duncan continued. "We appreciate everything they have done to pave the way for this construction."
As incentive to build, the city of Lincoln is paying for movement of a large water main which, if not moved, would be directly underneath the hangar facility. The Lincoln Airport will also be paying for the taxi-lane and ramp in front of the facility. These expenditures are similar to the investments previously made for Duncan Aviation construction in Battle Creek, Mich.
Mayor Beutler said the City is spending up to $150,000 to relocate a portion of the water main. It is the first use of the City's Fast Forward Fund, which was funded in 2009 to assist primary employers with infrastructure improvements.
The new paint structure, which will cost roughly $10.5 million to build, will allow input of some of the largest business aircraft in use today, including Gulfstream's 550, Bombardier's Global Express and Dassault's Falcon 7X. It will not necessarily add more paint slots to the Lincoln facility's paint service capacity, but will allow the ability to serve a larger mix of customers.
The new paint facility announcement follows on the heels of Duncan Aviation's announcement last fall of its new "chrome-free" paint process. Duncan Aviation partnered with paint experts and over the past several years they have collectively developed a new chrome-free paint process that is better for the enviroment, better for the paint technicians and better for the aircraft. Duncan Aviation has also worked closely with the Federal Aviation Administration and last fall received approval to amend its proprietary FAA-Approved Paint Process to include the new processes and products.
Duncan Aviation-Lincoln employs roughly 1,100 employees supporting the aviation needs of business jet operators worldwide. These services include airframe and engine maintenance, avionics installations, interior and paint completions/modifications, avionics/instrument and accessory/propeller repair/overhaul and parts support.
Duncan Aviation currently employs nearly 1,900 aviation experts worldwide. In addition to its Lincoln facility, the company operates a full-service facility in Battle Creek, Mich., and a maintenance facility in Provo, Utah. Other Duncan Aviation locations include more than 20 satellite avionics facilities located throughout the United States.