Fresh Thyme Market coming to Lincoln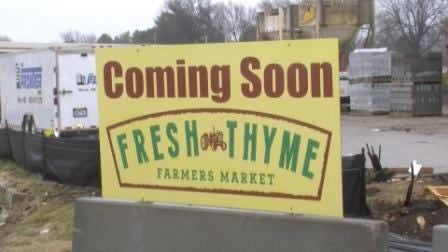 posted by: Laurann Robinson
A new store called Fresh Thyme Market is coming to Lincoln, and it'll be going next to the Cheddar's restaurant on 52nd and O Street. This small grocery store chain labels itself as an organic–style marketplace.
"It's kind of a small version of Whole Foods, about 28,000 sq. ft., and they like to think of themselves as a farmer's market. Their nitch is actually to offer the same kinds of fresh, organic groceries, but at a lower price than whole markets," said Robin Eschliman of Eschliman Commercial Real Estate.
The location will be where The Villager hotel used to be. The abandoned hotel burned down in a fire in 2009 and has remained a vacant lot since then.
Our business real estate experts say although the location is close to HyVee and other competitors, O Street is still a hot–spot location.
Dave Albers of Albers Co. says, "They were going in an area that is reasonably close to what we would assume would be some competitors. Whole Foods and Natural Grocers, so there'll be three similar types of stores in a reasonable close area."
Also going up in this location will be a Scooter's Coffee and a US Cellular store. All three stores are looking to be open by the end of the year, according to our business real estate experts.