Freshman Kenzie Knuckles making strong early impression as Husker libero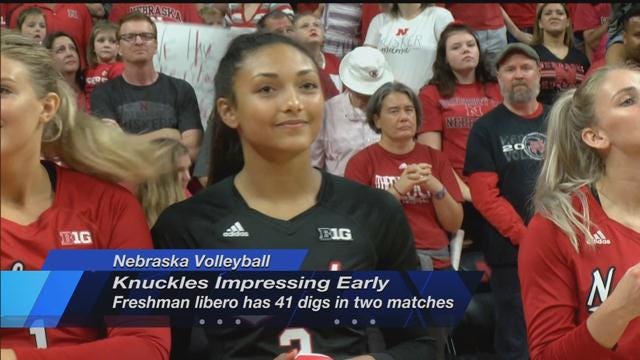 LINCOLN – Early in Kenzie Knuckles' volleyball career, John Cook identified her as a libero.
A decorated outside hitter from Yorktown, Indiana, Knuckles came in and embraced a position switch immediately.
Just months later, the freshman has Nebraska fans thinking big about her future at the libero position.
"Just like Nicklin runs our offense, (Kenzie) has got to run our defense," head coach John Cook said. "She did a really good job of that, was really confident, and for her first time out it was really good."
Knuckles amassed 41 digs in her first two collegiate matches, earning all-tournament team honors at the Husker Invitational.
Even with a strong start on the court, she still has big shoes to fill in All-American Kenzie Maloney, along with decorated past liberos like Justine Wong-Orantes and Kayla Banwarth.
"I don't have it yet, but what I'm working on bringing is just being consistent," Knuckles said. "That's a really big part for a libero is just to have that consistent energy and play, so you can count on that."