Have you ever seen this sport? It's Donkey Basketball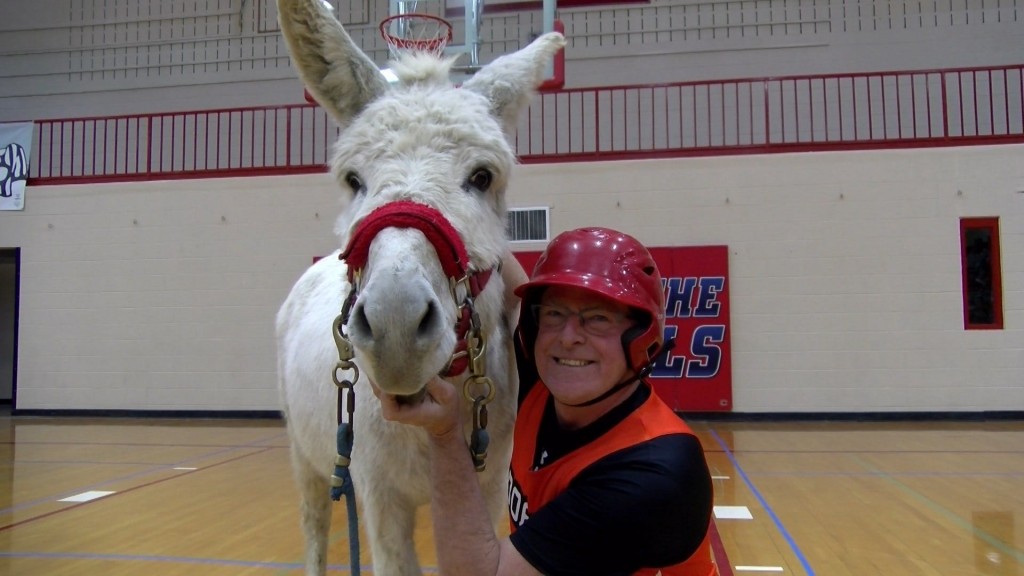 Two teams of four battled it out on the basketball floor in Crete Middle School's gym. It was not the kind of basketball you'd expect. This is donkey basketball.
In a nutshell, you have to be on a donkey to score, and you have to be connected to them to even get the ball. The struggle of the game is simply goofy.
"It's just one of the funniest things you'll see. It helps the community get together. There's people from the schools, from the businesses, farmers, firemen," President of Future Farmers of America Alumni, Greg Hollman said.
It is a fairly new game that is exactly what it sounds like.
"It was fun, riding the donkey and playing basketball is not something you do every day," Crete Fire Dept and Young Farmers team member, Zane Koskelin said.
The game is a definite crowd pleaser.
"You will see people try to get on a donkey, you will see them get on and fall right off, you'll see em get bucked off, you'll see em make shots and fall off, you will see some donkeys that absolutely refuse to move, some that will move really fast, some that will buck," Hollman said.
Best part of it all? The riding partners hardly know how to participate. (The donkeys that is).
The event was a good time fundraiser for Crete Future Farmers of America.
"From what I understand the FFA gets a lot of money and a lot of revenue from it. It's a great way for the city of Crete to come together and build a program here in Crete," Koskelin said.
Organizers say the family fun game does exactly what they hope it will do.
"At least a couple thousand, we're hoping for more all the time, the more money we raise, the more we can do for the students," Hollman said.
This is the second year the event took place. It will happen every two years, and riders said they'd do it all over again.
Koskelin was a football player for Doane University.
"Getting kicked by a donkey is about like taking on an offensive lineman I'd say, but it was a little more physical than what you'd expect," Koskelin said.
Out of the four teams, Crete Fire Department and Young Farmers won in the final round, a score of 8 to 6.