Highlights/Reaction- Husker men's hoops falls in final seconds to North Dakota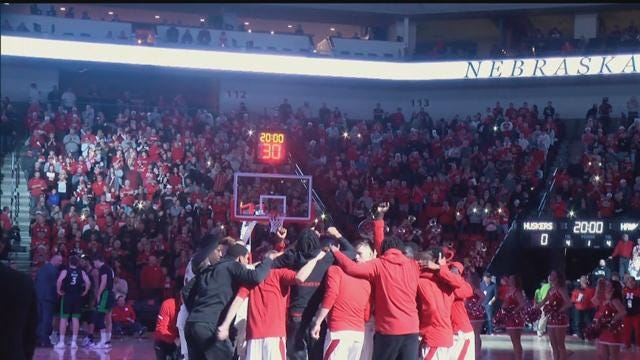 jkoller@klkntv.com
Highlights/Reaction- Nebraska men's basketball lost to North Dakota 75-74 on Saturday in the game's closing seconds. WATCH:
Courtesy: UNL Media Relations
Postgame Notes
*-North Dakota snapped Nebraska's three-game home win streak and improves to 3-2 vs. Nebraska
*-Matej Kavas set season highs in both points (12) and 3-pointers (four), hitting 4-of-5 from beyond the arc in 17 minutes. Kavas' previous high was 12 against Creighton.
*-Cam Mack's 19-point effort was his highest since scoring 24 against South Dakota State on Nov. 15.
*-Nebraska put at least four players in double figures for the ninth time this season, as Mack (19), Kavas (12), Dachon Burke Jr. (10) and Haanif Cheatham (10) all finished in double figures.
*-Ivan Ouedraogo finished with nine rebounds, the third time this season he has grabbed nine or more caroms.
Nebraska Coach Fred Hoiberg
On the energy during the game:
"I thought we had a good week of prep. I really did. I thought our guys went out there with a great approach and had good practices. Had a great shootaround this morning, very similar I thought to what we had against Purdue. I thought we would come out and play with great energy. But for whatever reason we didn't. And sometimes in life you get exactly what you deserve and that's what happened with this game. We let them come out and get confident early because of our lack of defensive energy and intensity. To have this type of effort is very disappointing. It is very discouraging. To come out here after I thought turn the corner a little bit. By the time we decided it was time to play, it was too late and we just couldn't quite climb over the hump. We could not get that lead. We missed a couple easy ones. A couple bunnies and a couple finishes right there at the rim. They would come down hit a three or make a tough shot. And that's what happens when you don't come out with the right approach. Its something where we have to get more consistent. We have to get way more consistent is that area. What I saw in the last two games is in the huddles the guys talking about adjustments and about things we need to do and what we need to continue to do. What we need to do better. Tonight it was just silent and guys looking at the floor and bad body language. This game the basketball gods work in a funny way. If you don't go out there and play the right way and play with the right approach they get you and that's what happened tonight."
On leaders on the team:
"Cam has done a nice job with that. Haanif (Cheatham) is probably the guy that is our best vocal leader and he should be he is in his grad transfer year. But again by the time we started doing that it was too late. You got to have that early in the game. When you come out and you don't close out to the shooters the way you need to you allow the guys to have to bounce it shoot it. Again that's where those guys get their confidence going. When we had our pick-and-roll coverage about four or five times we pushed them the wrong way. That's a communication error and a communication gap. And again I have seen growth in that area, but we took a step back tonight. So all we can do now is look forward. We are going to have tough competitive practices when we get back and hopefully become a more consistent team. But its very disappointing. Our crowd was phenomenal tonight. Would have loved to have this last game before the break and give them a win, and we didn't do it. We are going to get back to work when we get back and get after it and hopefully carry it over to the floor."
On the offensive game plan:
"We wanted to attack. We thought we could get into the paint. You look at our percentages I think almost 48% from the floor 43% from the three. Wasn't great from the line. Kind of the story for our group. This was not lost on the offensive end. We didn't come out with the right defensive intensity and you have to have it. It was a very talented offensive team, and we knew that coming in. And again you have to make certain players put the ball on the floor, and we had short close outs on a couple of them and again that's where they got it going and that's where they got confident."
On the message to the team:
"Yeah absolutely. 100%. You got to say do you want it. You cant only want it during the good times. You have to want it during the tough times. You have to battle through the adversity. That's what the good teams do and right now we are too inconsistent with that. There is a very fine line especially for a team like ours with all the new faces and we are on the wrong side of the line a lot of times because we don't fight through that adversity well enough. We all got to look at ourselves. I promise I am going to do it. I am going to look at it and watch this film and see what I can do better to put our guys in a position to be successful. But sometimes, you know you got to go out there and dig in and grind it out when things aren't going your way and we didn't have enough of that today."