Husker fans celebrate Avery Strong Day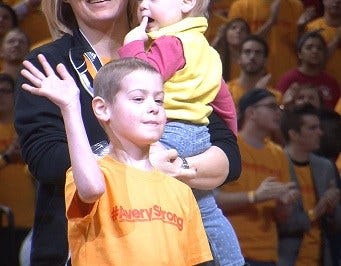 Posted By: Camila Orti
Husker fans had an additional thing to cheer for besides a Nebraska victory on Saturday.
Pinnacle Bank Arena is home to the Big Red but fans saw quite a bit of yellow for the men's basketball game against Michigan State. It was all part of #AveryStrong Day, named after the 7-year-old son of Nebraska assistant coach Chris Harriman. Avery's been fighting leukemia since he was two years old.
"We're on a good road, we had two consistent biopsies that showed no leukemia, so we're doing really good," Avery's mom Cheryl Harriman said.
Cheryl says it was overwhelming to see the community come together to raise awareness for childhood cancer. The first 1,500 fans got a free "#AveryStrong" T-shirt.
"Just walking in the gym and seeing all the students with their gold shirts on and gold everywhere, it's just amazing," she said, "it's heartwarming."
Avery seemed to be enjoying his time in the spotlight, too. He joined five others who had undergone bone marrow transplants on the court before tip-off to be recognized.
"I feel like that I'm going to explode," Avery said.
The Harrimans say it was the moments leading up to the game that really counted, when volunteers helped hundreds of incoming fans sign up to be on the bone marrow donor registry. Avery was lucky enough to have a donor match, twice.
For those interested, it was a simple swab of the cheek.
"Anytime a team can get behind a local activity and support somebody when they're in need, that's what it's about," Ryan Rieker, who signed up to be a donor, said.
Volunteers said they couldn't be happier with the turn-out. They estimate more than 350 people got swabbed to be bone marrow donors before the game even started.
If you're interested in joining the donor registry or learning more, visit bethematch.org.