Husker football announcer arrested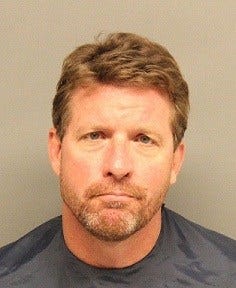 Posted By: Reid Kilmer
rkilmer@klkntv.com
Patrick Combs' voice is a familiar one for Big Red football fans, but now he faces legal trouble.
Lincoln Police arrested the 49–year–old announcer Thursday morning after he turned himself in, accused of embezzling money from two elderly women who he's not related to.
Court documents reveal in 2014 Combs became the Power of Attorney for the women, one 88 the other 92, giving himself the ability to open bank accounts and manage their finances.
Lincoln investigators say they uncovered Combs spent around $400,000 of the women's money in payments for cars, car repairs, credit card bills, carpet, a snow plow, home repairs and more.
Affidavits show one woman had no knowledge Combs had access to her money.
The other woman had been diagnosed with dementia since 2012. Court documents say a doctor tested the woman with a neuropsychological evaluation and revealed her "Decision making capacity clearly is impaired" and "She did not maintain mental capacity to reassign power of attorney in 2014."
According to court documents Lincoln Police were notified of the embezzlement in early 2015, after Combs tried to gift $1.75 million dollars from one of the woman's accounts to himself.
As for Husker games, the University of Nebraska released a statement saying,
"Mr. Combs' annual letter of agreement with the University of Nebraska athletics department expired on August 1. Under the circumstances we will not consider renewing the agreement until all legal issues are resolved."
Combs is charged with Attempted Theft, Vulnerable Adult Abuse, two separate counts of Theft over $1,500, Unauthorized Use of a Financial Transaction Device.
He was bailed out of jail Thursday, we will keep you updated as this story progresses.