UPDATE: Karma fire ruled accidental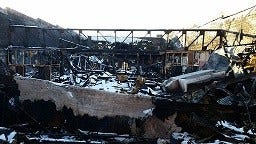 Posted By: Reid Kilmer
rkilmer@klkntv.com
The cause of the at Karma Nightclub & Cabaret fire has been ruled accidental. According to Lincoln Fire officials, curtains on the stage were too close to a smoke machine. This caused the spark to the massive blaze
Damage was estimated to be half a million dollars.
We spoke with the owner of Karma, Kyle Baun, who says local businesses are reaching out to help.
Those businesses are opening their doors to performers and events that were once scheduled at the club.
Baun said, "Its been amazing the local support from other businesses it's a good feeling to know Lincoln does support businesses and community, it's a great feeling."
Baun wants to reopen Karma, he's just not sure where that will be yet.
Baun told us, "Karma will be back and we will move on."