Large pot bust along I-80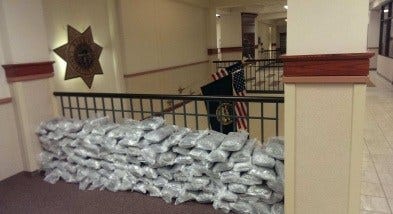 Posted By: Jenn Schanz
jschanz@klkntv.com
A traffic stop along I-80 turned up nearly 130 lbs of pot.
Lancaster County Sheriff's Deputies pulled over two cars they say were travelling together near the airport Sunday morning.
After a canine officer alerted deputies to something odd in the vehicles, they performed a search.
That's when they found 128.22 lbs of marijuana in the one of the trunks.
30–year–old Ali Khalil and 28–year–old Issa Serieh both of Illinois, were arrested.
Deputies believe they were headed back to Illinois with the drugs.