Lincoln girl receives one-handed saxophone through UNK music program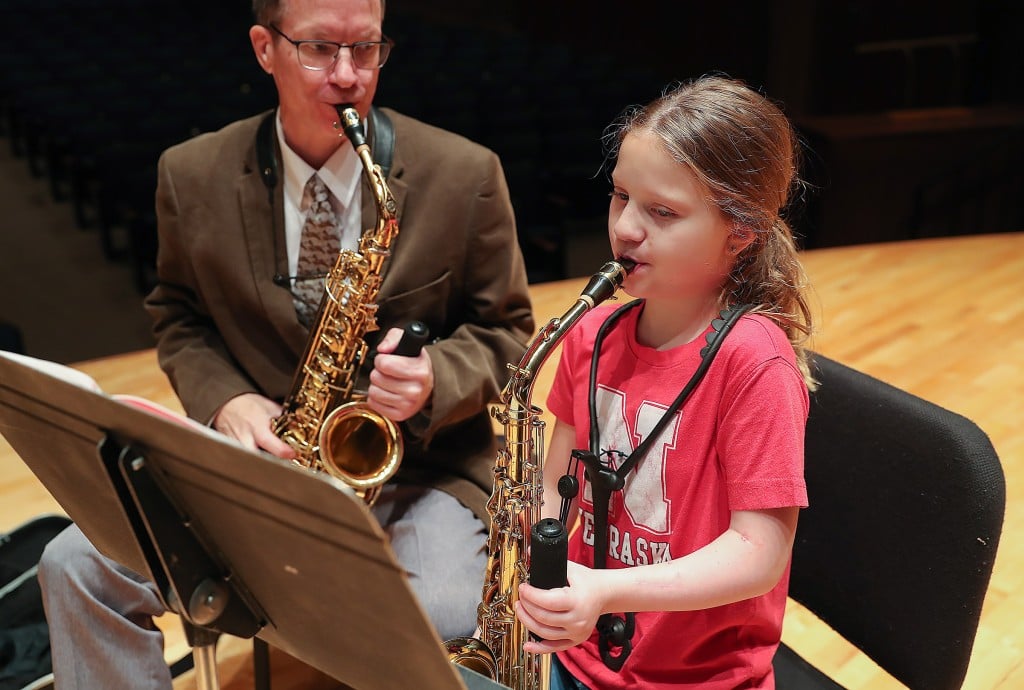 LINCOLN, Neb. (KLKN) – The University of Nebraska at Kearney is helping a Lincoln girl develop her love for music through its One-Handed Woodwinds Program.
Claire Bahensky's face lights up when she plays her new saxophone, something that her family feared might not happen.
The 10-year-old discovered her love for music earlier this year when students at St. Joseph Catholic School were preparing to transition from plastic recorders to more complex instruments.
She took a liking to the saxophone, but her parents knew that her new interest may end in disappointment.
Claire suffered a brachial plexus injury at birth, which caused significant nerve damage in her left arm.
Despite three surgeries and countless hours of physical therapy, she only has a little bit of function in her left hand.
But instead of telling their daughter, "No, you can't do that," Brenda and Nate Bahensky began exploring other options.
A friend of the family suggested that they speak with David Nabb, a UNK music professor who advocates for musicians with disabilities.
Nabb was 37 years old when he suffered a stroke that paralyzed the left side of his body.
After his recovery, Nabb returned to his job with a one-of-a-kind saxophone designed and built by Jeff Stelling, owner of Stelling Brass & Winds in Kearney.
It took roughly 1,600 hours to create the unique instrument, which features a toggle-key system that allows it to be played with one hand.
The invention has received worldwide accolades, including awards from the One-Handed Musical Instrument Trust, the National Association of Music Merchants and the Kennedy Center.
Stelling and Nabb have made adaptive instruments available to other people with disabilities through the UNK One-Handed Woodwinds Program.
Stelling has built a total of six saxophones and adapted many other instruments, each one designed for the musician's specific needs.
"It's something I never thought about until it happened to David," Stelling said. "There's a huge need for adaptive instruments for people because music is such an inherent part of people's lives. It's great to be able to give that to them."
After additional modifications to ensure the instrument properly fit a fifth grader, the Bahenskys picked up the saxophone in late October.
The family said it was an emotional moment to see Claire get this opportunity.
"We've seen a lot of doors that have been closed to her over the last 10 years because of her injury, a lot of things that she just can't do, so it's nice to see a door that's open to her," Brenda said. "I've watched her work very hard for things that come very easy to other people. Now she gets a chance to be the same as everybody else.