Lincoln woman battling rare breakthrough COVID-19 case
"My case is very rare, but it is absolutely a testament to a worst case scenario."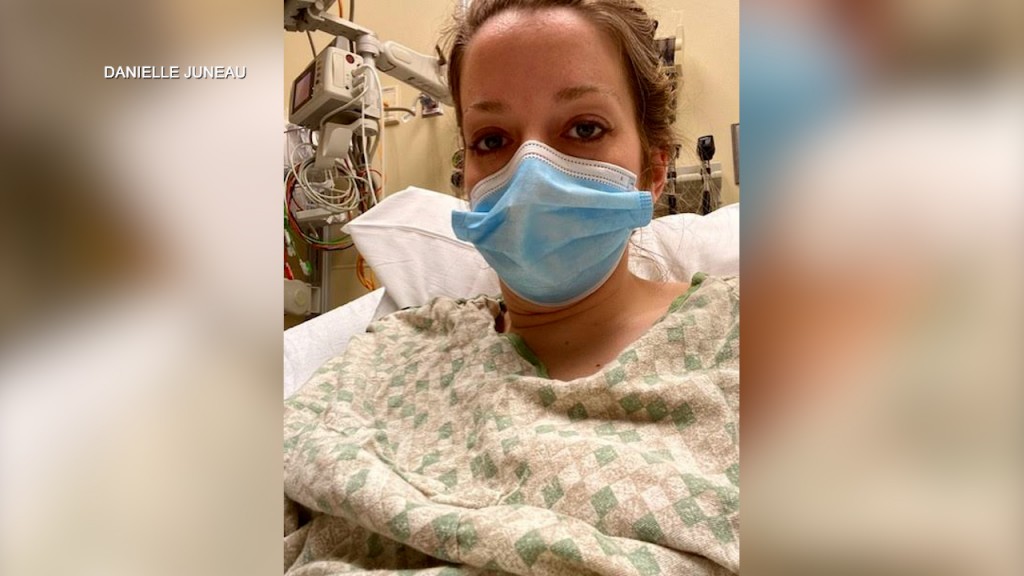 LINCOLN, Neb. (KLKN) – Meet 36-year-old Danielle Juneau, a vaccinated Lincoln woman who has been through some tough times the last several months after contracting the Delta variant. Some are considering her COVID-19 case, one in a million.
"I do know my case is very rare, but it is absolutely a testament to a worst case scenario," Juneau said.
A COVID outbreak at her daughter's day care in the beginning of June infected her 4-year-old and herself. It began as mild COVID-19 symptoms, but those symptoms progressively got worse. A high fever, a painful headache and she started seeing double vision. As days went by, she knew something was seriously wrong when she started losing feeling in her hands and feet.
"There was one point when I called my oldest daughter, I said you need to get dad, I can't move, something is wrong. He needs to move me out of the bed," Juneau said. "It was very difficult for me to walk, it was difficult for me to go up and down the stairs. I had this feeling that my body would collapse out from underneath itself."
Along with those symptoms, came a continuation of partial blindness and ringing in her ears. She describes the sound as so loud that it was causing her to feel as if she was going deaf. Juneau was rushed to the Emergency Room where doctors ran a battery of tests – all of her results coming back normal.
"I didn't know if my ability to walk would go out again because it was coming in and out. I didn't know if the blindness would be permanent. I didn't know If I would be deaf permanently, it was pretty frightening," Juneau said.
After multiple hospital trips, 15 positive COVID tests, and testing positive for over a month, it prompted Juneau to take action.
She started looking to join research and clinical trials, hoping someone could give her answers. She sent an email to Johns Hopkins and sure enough, they agreed to work with her.
The research team will now be following Juneau for a full year, doing various cognitive tests, sending Phlebotomist's to analyze her blood and take note of every symptom over the next 365 days.
At this point, doctors are considering her COVID-19 case as a form of 'Long COVID.' Although she's not testing positive currently, she's still having on and off again symptoms, like Arthritis and an irregular heart beat. And that's just the physical mark COVID-19 has left on her. Juneau says the mental toll is just as isolating.
"It's kind of cut short a lot of the hobbies and things that I enjoy," Juneau said. "The things that make me happy and give me a sense of purpose."
Through the last several months, Juneau sticks by her decision and has no regrets getting the COVID-19 vaccine. She believes the shot may have saved her life.
"I believe that if I had not gotten a vaccine at all that my case would have been even worse. I mean as much as it was a worst-case scenario, I feel it could have been infinitely more worse," Juneau said. "There is a possibility that you and I wouldn't even be having this discussion after that."