Lincoln woman saves planet, helps homeless with 'beds of bags'
A retired teacher found a way to help those who are less fortunate while reusing plastic bags at the same time. Now, she's gaining attention.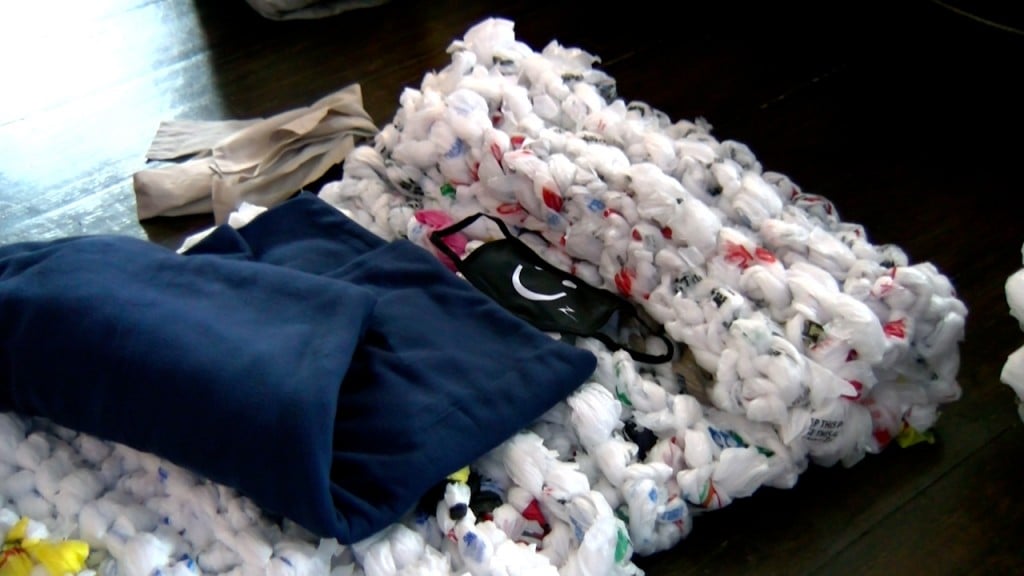 LINCOLN, Neb. (KLKN) – A retired first-grade teacher has found a way to help her community in more ways than one.
Becky Topil is gaining attention across the city of Lincoln for her 'beds of bags,' which are, quite literally, beds made out of bags.
She's taking plastic bags and recycling them by crocheting them into warm, cushy, roll-up mattresses that can be used by those who might be facing homelessness.
Topil says she got the idea from a friend in Kansas and immediately wanted to help the local community by doing the same.
"When you think about where these bags are going, you know they're going into these landfills and just being thrown away and I love to help people and so I thought 'I can do this,' and I can help people and save the earth at the same time, too."
First, Topil links 700 bags together to create a 'plarn' – a plastic yarn. Then, she crochets the chain into a mini-mattress, complete with a pillow that allows for storage of personal items inside.
So far, Topil has made 12 'beds of bags' and donated her first shipment of 10 to the People's City Mission. After word spread about her project, thousands of bags have been donated to Topil as she creates more and teaches others to make them, too.
Lincoln community members also donated blankets for Topil to deliver with each bedroll, along with masks donated by her son.
"I love my community," Topil says. "And it gives me a really heartwarming feeling to help."
Topil's goal is to create 100 bedrolls to donate to homeless shelters in 2021. She has also created a Facebook page, where she hopes others will join, donate, and watch her short tutorials on how to help.