LPD Captain celebrates promotion with retired police officer father
Max Hubka was promoted to police Captain and got his badge pinned by none other than his father, a retired LPD officer.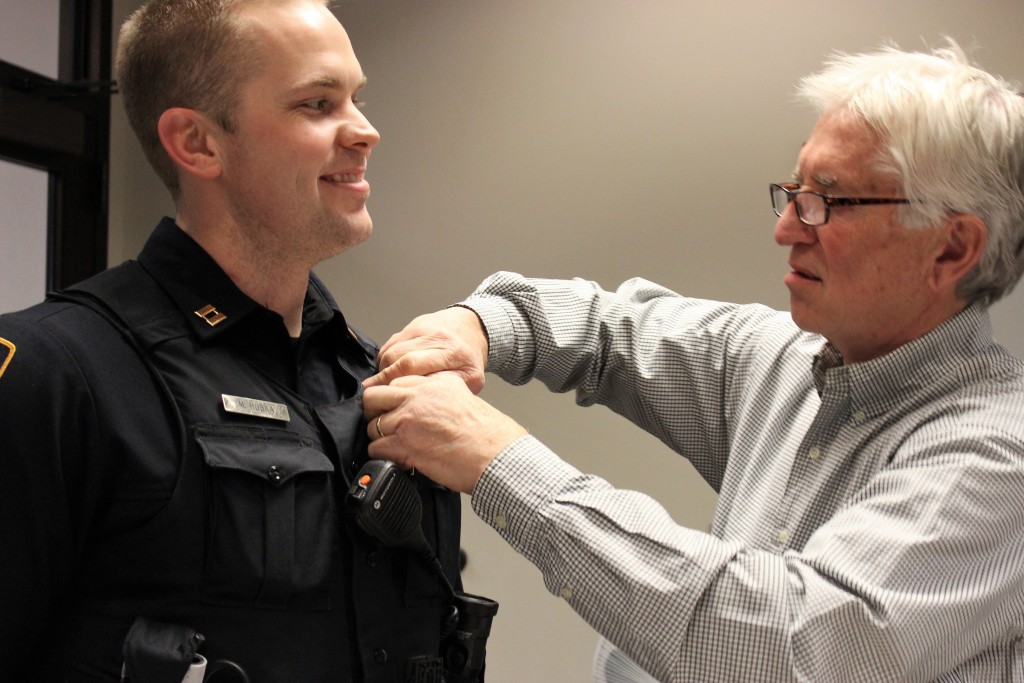 LINCOLN, Neb. (KLKN) When an employee of the Lincoln Police moves up in rank, tradition calls for that employee's family or close friend in the department to pin the badge to signify their promotion.
For one father-son duo, it didn't happen just once – it happened twice.
Captain Max Hubka was promoted to his position as Captain last week. At his pinning ceremony was his father, Rich Hubka. Rich retired from the Lincoln Police Department in 2006.
"I had a career goal," Captain Hubka said. "I was hoping I'd have the opportunity to move up in the ranks in LPD and I knew if and when I got that opportunity, that I wanted my dad to be the person to pin the badge on me."
"I had a goal and I worked really hard to get there," Hubka said.
But it wasn't the first time Captain Hubka had been pinned by his father. When he graduated from the 2009 police academy, Rich was there to congratulate his son and pin his first badge as an officer.
"It's an honor and a privilege," Rich said. Watching his son move up in the ranks of the department came as no shock to him, however.
"Very proud papa, yes. It's something that didn't really surprise me because being around him for his lifetime I knew that when he had the ambition to do something, he would be successful at it," he said. 
After teaching business for years, Rich decided he had a calling to serve the Lincoln community in a higher capacity, and became an officer. After more than 20 years in the department, he retired.
Through college, Max said he didn't know what career path he wanted to take, but when he recognized the call to serve, he knew it was right.
Hubka's grandfather was a detective with Lincoln Police years before Rich and Max.
Captain Hubka says he loves serving the community and is proud to continue on his family legacy.