Lux Middle School teacher honored with prestigious award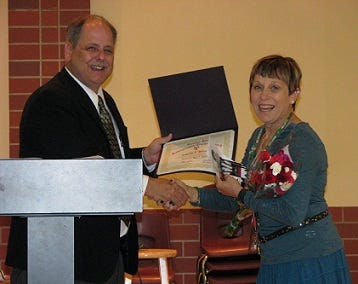 By: Newsroom
8@klkntv.com
The Scottish Rite Distinguished Teacher of the Year award was given to Kathi Mercure.
Mercure is a social studies teacher at Lux Middle School. The award was presented Monday morning during an all school assembly.
"This is such a cool honor," Mercure said when she came to the microphone, speaking through her tears and student cheers. "This the best career ever…I'm so privileged and honored to have a principal who believes in me, and to have staff members who put up with me."
Mercure has taught Social Studies at Lux for 15 years, and taught previously at Culler Middle School.
The top line on her resume says: "Thirty years from now it won't matter what shoes you wore, how your hair looked, or the jeans you bought. What will matter is what you learned and how you used it."
Scott Dodge, representing the local Scottish Rite organization, described the award as honoring one outstanding LPS teacher who exemplifies excellence in the classroom. "This is the Super Bowl of school district awards."
Lux Principal Bill Bucher wrote of Mercure: "She is a great example of a tireless teacher who strives for excellence everyday and provides students a rich, warm, exciting American History experience – just as it should be…She brings herself into the classroom: her experiences as a parent, as a student of history and as a traveler to all parts of the world….Kathi has many examples of innovative practices that she has used over her years at Lux. She tries to make her American History come alive to them every day so they become as excited as she is."
In her nomination letter, Mercure wrote: "Teaching is not just a job for me, but a way of life…I'm here to foster new connections, bring humanity to the forefront and to remind the students that 'there once was a time' – so that they can learn lessons that our rich history and social advancement have to offer."
The Scottish Rite honor is one of the most prestigious awards bestowed upon a teacher at LPS. As the winner, Mercure receives a $1,500 award, a special certificate – and her portrait will join the photos of other Scottish Rite winners.