Medicaid expansion advocates say they're not done fighting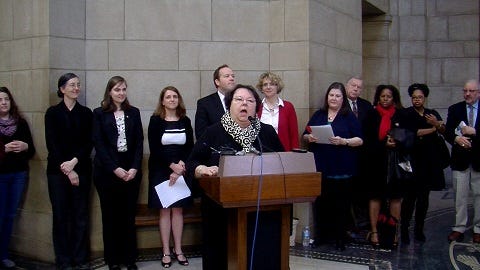 By: Jenn Schanz
jschanz@klkntv.com
Last Wednesday, a push to expand Medicaid in Nebraska was once again denied.
The Wellness In Nebraska (WIN) or Act, aimed to insure the 54, 000 Nebraskans who fall into the 'coverage gap.' That means they make too much to qualify for Marketplace subsidies, but not enough to buy private insurance.
Amanda Gershon is one of those Nebraskans.
"I have spent over a year trying to find a way to move forward with my health. Without the subsidies I will spend over 70 percent of my annual income paying for the premiums and the deductible to get care," she says.
Gershon suffers from multiple auto immune diseases.
Wednesday she joined dozens of WIN advocates, including the bill's introducer, Sen. Kathy Campbell, to talk about the future for uninsured Nebraskans.
"We will continue, without a doubt, to work on this issue and to strive until we have that access to healthcare," says Sen. Campbell.
The WIN Act would have been matched by federal dollars in full until 2016, and then the state would have had to pick up part of the costs.
Because of that, opponents say the burden would fall on taxpayers.
"We still have to, under that bill, come up with hundreds of millions of taxpayer dollars from hardworking Nebraskans to pay for a program that just a lot of people don't have faith in," says Sen. Beau McCoy.
He says there are alternatives to Medicaid expansion, like buying insurance across state lines, or allowing small businesses to pool for coverage.
But for Gershon and the 22 senators still fighting for Medicaid expansion, those alternatives don't add up.
"Even with the poor health I have, I have achieved so many things in my life. Imagine what I could achieve if healthcare wasn't a privilege in Nebraska," Gershon says.
The deadline to sign up for insurance via Healthcare.gov is March 31st, but as long as you've started to apply by then, you'll have until mid April to ask for an extension.