Nebraska Legislature passes state standards for Holocaust education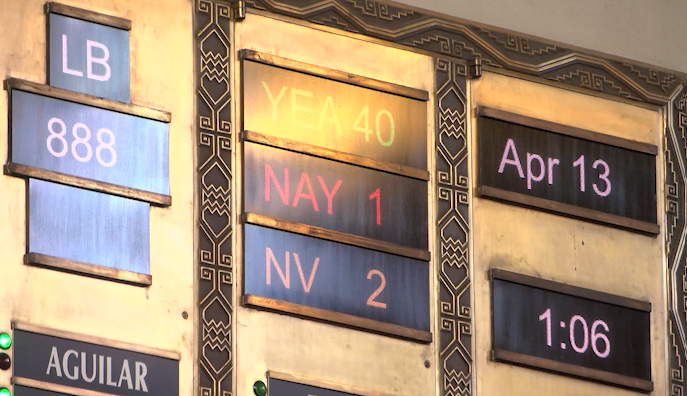 LINCOLN, Neb. (KLKN) – One after another, bills received the green light from the Legislature on Wednesday and are now headed to Gov. Pete Ricketts' desk.
Then senators hit the brakes and opened debate on the last bill of the session.  The bill deals with what Nebraska public school students will be taught.
"We have a white supremacist problem in Nebraska, and that doesn't just affect Black people, or people of color or Jewish people; it affects white people, too," Sen. Megan Hunt said. "It affects all of us. It poisons all of our children."
This bill requires the State Board of Education to adopt standards for education on the Holocaust and other acts of genocide.
The debate was not about if the Holocaust should be taught, but whether the bill should also include American history on slavery and Native Americans.
"I strongly believe that all kids should learn the true history of America, and a part of the history of America is slavery," Sen. Terrell McKinney.
Sen. Justin Wayne said the Legislature shouldn't pick one topic or the other.
"This is my history, what little I have left," he said.
The dilemma senators faced was that if they voted for the amendment that would add those topics, the whole bill would die for now and return to general file next session because there is only one day left this session.
"I was not willing to let it die," said Sen. Jen Day, who introduced the bill. "This bill is about Marcel, who was born in Paris. She arrived in Auschwitz on Aug. 26, 1942, in a transport of 1,000 Jews deported. After selection, she was murdered in a gas chamber."
Wayne feels that it will take a few years for this law to be implemented anyhow, so senators should take more time to work on it.
"We are a year out, if not two years out, of implementation," he said. "So we need to bring the right bill."
Some senators were shocked to see such a long debate on the issue but understood that the topics were deeply personal to their colleagues.
"The Legislature and the people of Nebraska have obviously benefited from having Black and Native American state senators," Hunt said. "This conversation just proves to me how much we would benefit from a Jewish state senator."
Ultimately, the amendment to add history on slavery and Native Americans failed 23 to 12, but the bill to teach about the Holocaust passed 40 to 1.
The only one to vote against it was Sen. Curt Friesen.
"The Legislature again shouldn't get into the middle of dictating exactly what they teach or what they don't," he said. "The State Board should be held accountable, and if you don't like what they are doing, I know there has been a lot of interest in the State Board of Education recently, but this is their expertise. This is what they do."
Senators will reconvene next Wednesday to override any vetoes Ricketts may issue.