Nebraska's first high school apprenticeship program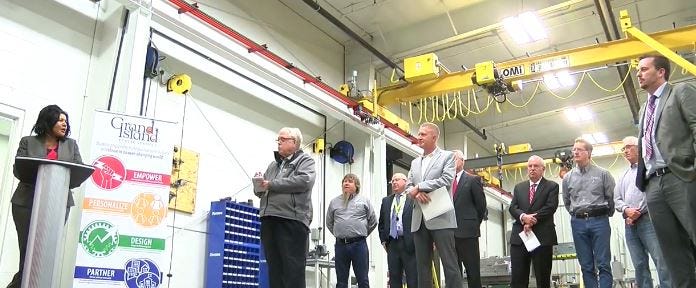 Posted By: Channel 8 Eyewitness News
8@klkntv.com
Now to some high school kids in a grand island..
They're getting great work experience…at dramco tool.
Steve white has more on a special program they have..
Now the company is the first in the state to create a registered apprenticeship program…allowing 16 and 17 years old to work in the plant.
All businesses had the mentality they couldn't employ students until they were 18, this proves that it is possible, this is an avenue where we can handle the educational side and the businesses can do on the job training
It builds on the success of the career pathways institute.
That's grand island's tech program for high school kids…
Exposing students like pernaath rial to careers like manufacturing.
I could see myself doing this.
And a paid apprenticeship could give him a huge boost.
That would be pretty good for me, because right now i wouldn't be able to pay for a four year college and i don't really need to go to a four–year college for the things i'm going to do when i'm older
Dramco has grown from two to 48 employees.
And the career pathways institute gave ten their start.
Our goal is to grow 2 or 3 employees per year and that's a feasible goal with our partnership with CPI.
It is great to have success stories we can go out and share with other people.
This is the first…with grand island school leaders more apprenticeships to come.
Groundbreaking in opening opportunities for students.
Lieutenant governor mike foley was on hand.
He says manufacturing is our second largest industry.
And programs like this will help grow the state.