Net Nebraska hosts 'Mental Health in Communities of Color' online event
According to the CDC, Nebraska's youth suicide rate is higher than the national average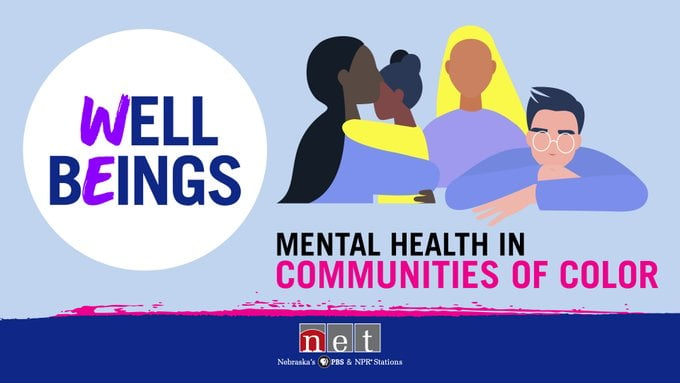 LINCOLN, Neb. (KLKN)- NET, Nebraska's PBS & NPR stations are hosting the third virtual edition of the "WELL BEINGS" online event on Thursday, January 28, at 4 p.m. The topic of the event is, "Mental Health in Communities of Color".
This will be a free Facebook Live event that will last around an hour with no registration required, click here to tune in.
During the event, mental health experts from the Boys Town Center for Behavioral Health in Omaha will respond to your questions that can be posted in the comments section of the Facebook livestream. If you'd like to submit a question ahead of time, click here. 
On their website, NET said:
"According to the National Alliance for the Mentally Ill, another shared experience in communities of color can be facing racism, discrimination or inequality that can significantly affect a person's mental health. Being treated or perceived as "less than" because of skin color can be stressful and even traumatizing, according to NAMI. Additionally, members of communities of color may have difficulty accessing care and treatment or experience socioeconomic disparities that contribute to worse mental health outcomes."
The event includes a panel of mental health experts. According to the CDC, in Nebraska, the suicide rate for youth is higher than the national average and one of the leading causes of death for 10-24-year-olds.
"The virtual event will feature personal stories from young adults, as well as practical skills and information that students, parents, teachers and others who care for young people can use to recognize the signs and symptoms of depression, anxiety and suicidal thoughts," NET said in their release.
These are the panelists for the event:
Miguel Estevez, PLMHP, PLADC – Friendship House, Grand Island, Neb.: Estevez is an English, Spanish and Portuguese trilingual mental health professional serving young Nebraskans and others through programs and therapy to cope with traumatic events, mental health conditions including substance use, self-harm and suicidal thoughts.
Dr. Charmayne Adams, PhD – University of Nebraska at Omaha, Omaha, Neb.: Adams is an assistant professor at UNO and licensed professional counselor. Her background includes work with individuals who have a history of trauma or are in crisis. Both clinically and academically, Adams focuses on social justice counseling and empowering people to examine barriers and use their strengths to overcome life's challenges.
Dr. Anitra Warrior, PhD – Morningstar Counseling & Consultation, Lincoln and Beatrice, Neb.: Influenced by her cultural heritage, Warrior values family and community. She attended Little Priest Tribal College in Winnebago, Neb., and continued her psychology studies at the University of Nebraska-Lincoln. She has extensive experience working with people from diverse backgrounds.
If you or someone you know is experiencing a mental health crisis or is in need of more resources, there are a number of places to reach out:
Crisis Text Line: Text HELLO to 741741
National Suicide Prevention Lifeline: 1-800-273-TALK (8255)
SEE ALSO: Snow shoveling safety and health advice