Pilger tornado may have been an EF-4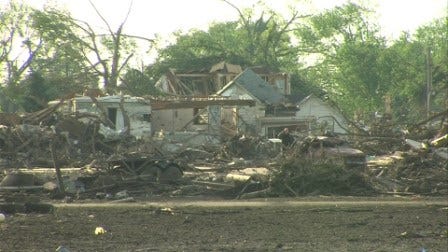 By: Kayla Bremer
8@klkntv.com
Teams from the National Weather Service were out surveying the damage near Stanton and Pilger Monday.
Two teams left early Monday morning from the office in Valley, Neb. to begin researching the area. They still have some work to do but say they found several points of EF-4 damage.
What that means is wind speeds may have been between 166 to 200 miles per hour.
One team researched the track and damage of the first tornado near Stanton. They believe it had a 15 mile path and was on the ground for roughly 21 minutes. The preliminary rating for that twister is at least an EF-3.
As for the Pilger tornado, they are still surveying the damage but once again have found several points of EF-4 damage. No word yet on the length of time or path.
"Basically to rate a tornado, we look at the damage that it creates," Van DeWald, lead meteorologist for the National Weather Service in Valley said. "So whatever damage might occur whether that be a roof blown off or the walls blown down or the complete building swept away, you can correlate that amount of damage with the wind speed estimate of what it takes to create that damage."
It only took about 40 seconds for the tornado to tear through the town but the damage is just unbelievable.
The National Weather Service says the width of the tornadoes is still unknown. They say that is one of the last pieces of information to be researched and released.