Recycling during the holidays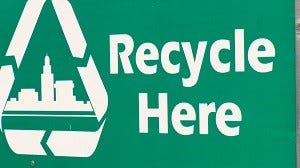 Courtesy City of Lincoln
For party hosts:

Calculate and buy only the amount of food needed for the party or dinner.
Buy food that is packed in packages made of recycled content that can be recycled again.
Plan foods that are easily frozen and package leftovers for guests to take home.
Use dishes, glassware, silverware and cloth napkins rather than plastic and paper.
Decorate with natural items — squashes, gourds and colorful leaves for a fall festival; pine cones and natural wreaths for winter holidays).
Buy a live tree that can be planted outside after the holidays.

Cards:

Electronic cards or cards made from previously used cards and/or materials that you have at home save on costs as well as waste.
Cards that you have received (all holidays) can be sent to St. Jude's Ranch for Children. For more information, visit http://stjudesranch.org.
A phone call is more personal and more appreciated by those you do not see often or visit with only via the internet.

Gifts:

To help eliminate waste, buy less, buy local and buy "green."
Give a gift of experience — tickets to a play, concert or sports event, lessons or classes, or a year-long pass to the State parks or a favorite museum.
Give the gift of time — babysitting, a monthly ride for the person who does not drive or does not have a car, offering to routinely take a neighbor's recyclable items to the drop-off sites.
Give a gift that gives twice such as a donation to the person's favorite charity.
Encourage others in their recycling habits by giving a reusable lunch bag filled with their favorite food, recycle bins for their garage, or a battery charger and rechargeable batteries.
Plan gift exchanges that incorporate previously loved or homemade products — books, a refurnished piece of furniture or a rebuilt bike can be cherished by more than one person.

Wrapping Gifts:

Use funny papers, comic books, coloring book pages or decorated paper bags.
New kitchen towels, gloves or a reusable shopping bag can be the wrapping and a gift.
Use cloth ribbon or a thin scarf that can be reused. Make cloth ribbons by tearing that stained holiday tablecloth or other material into strips.
For gifts that need boxes, start saving food boxes that you usually recycle. Cracker and cereal boxes (including those round oatmeal boxes), tubes from paper towels and toilet paper hold many gifts and make appealing shapes.
Make the package a part of the gift — put seeds or bulbs in a flower pot. Put ingredients for cookies on a cookie sheet, or a "themed" food basket in a picnic basket.
Use popcorn (not buttered and unsalted) as packing protection then put it out for the birds to eat. Unsalted, in the shell peanuts work as well.