Risk dial for Lincoln lowered as COVID-19 cases top 1,000
A dial displaying the risk of COVID-19 in Lincoln was lowered Friday, at the same time as confirmed cases of COVID-19 topped 1,000 in Lancaster County.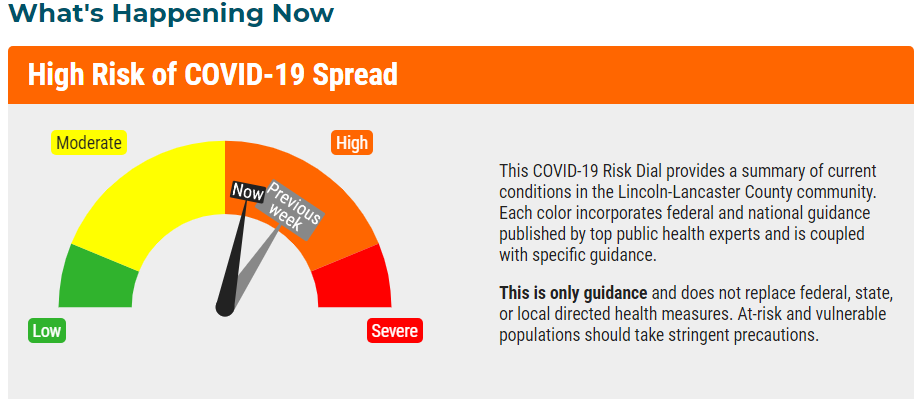 A dial displaying the risk of COVID-19 in Lincoln was lowered Friday. At the same time, confirmed cases of COVID-19 topped 1,000 in Lancaster County.
Health officials reported 38 new cases Friday, bringing the community total to 1,005.
Pat Lopez, Director of the Lincoln-Lancaster County Health Department, also provided a status update on the five primary factors officials are monitoring to make decisions about easing restrictions.
The first factor, the number of confirmed cases and its trend, had varied a great deal day-to-day based on when reports about new cases are returned to the health department, Lopez said. Recently, Lincoln has averaged 35 new cases each day.
Friday brought no reports of new cases linked to any local meatpacking facilities, including the Smithfield Foods plants in Lincoln and Crete and Smart Chicken in Waverly.
The second factor, the positivity rate, has slowly decreased over the past three weeks after spiking last month, Lopez said. The rate dropped from 9.8% on Monday to 8.2% on Friday. The state rate is 15.2%, slightly lower than the national rate of 15.7%.
The third factor, testing capacity, continues to improve, Lopez said. More than 5,000 residents have been tested in Lancaster County over the last two weeks, and 3,000 tests are expected to be completed by the end of the current week.
Bryan Health and CHI Health continue to offer testing, and Test Nebraska now has a site at the Lancaster Event Center.
The fourth factor, the ability to do contact tracing, has remained flat, Lopez said. There are 34 people doing contact tracing in Lancaster County, which is enough to meet the current demand, she said.
The final factor, the capacity of local hospitals, remains healthy, Lopez said. This takes into account the number of total patients hospitalized, how many of those are COVID-19 patients, the availability of ICU beds, and the need for protective equipment. Local hospitals have 42 in-patients, 24 of whom are Lancaster County residents.
Lopez said while Lincoln continues to do a good job containing the spread of the virus, easing up on restrictions too soon could result in a backward slide.
"This progress can be lost if we go down and let down our guard," Lopez said.
Mayor Leirion Gaylor Baird said the risk of COVID-19 remains high in Lincoln, citing a conversation with Dr. Anthony Fauci in which he urged city's to follow social distancing guidelines and maintain proper hygiene techniques like washing hands.
You can view the city's COVID-19 risk dial and the guidance it recommends here: https://lincoln.ne.gov/city/covid19/ .