SCAM ALERT: Letter says Lincoln woman won $4.5 million
Scammers are looking for ways to get money out of your pockets - a Lincoln woman wants to make others aware of a recent scam claiming she won a jackpot.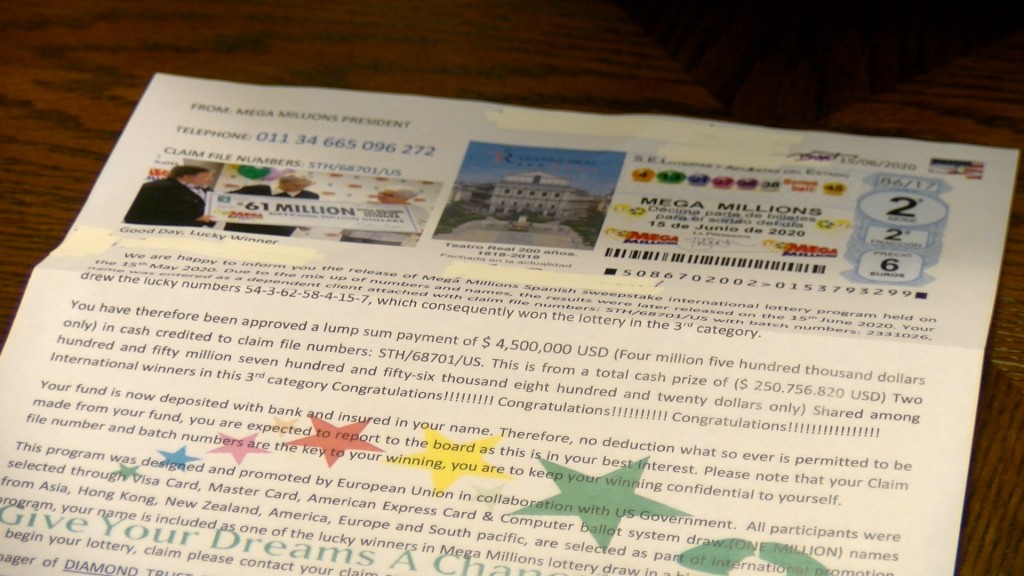 A Lincoln woman is trying to make the community aware of a scam that's going after the elderly community.
Terri Mackel tells Channel 8 News that her mother, who is deceased,  received a letter in the mail saying she had won over 4 million dollars.
"She got a letter in the mail and when I opened it, it had a logo from mega millions on there so I proceeded on reading it, stating she had won 4.5 million dollars," Mackel says.
The letter caught her by surprise, but she quickly realized something wasn't right.
"They wanted to keep it quiet so that nothing could go wrong, nothing false, anything like that."
Then it gets even more unusual. The letter reads "You are expected to make yourself available in our Madrid office to claim your fund legalization documents."
"If she was not able to be there at that time then she could send money for the delivery fee and insurance fee or have a direct deposit," Mackel says. The letter also stating that the wired direct deposit would require a 'cost of transfer' charge.
The Nebraska Lottery says scams such as these are common.
They say to keep in mind that they would never contact you personally about winning a jackpot or prize, and they would never charge you to get your prize.
Mackel says she reached out to Channel 8 to help spread the word about the scam.
"I know that there's a lot of people out there who probably wouldn't read the whole thing and think this is something very real and I just wanted to be sure nobody fell for it."
Mackel contacted officials who filed her complaint. If you think you're being scammed, the Attorney Generals office would like for you to report it. You can report scams and potential scams here.