Senators submit letter to hold special session for racial justice
Some Nebraska senators want the legislature to get back to work, the governor says no.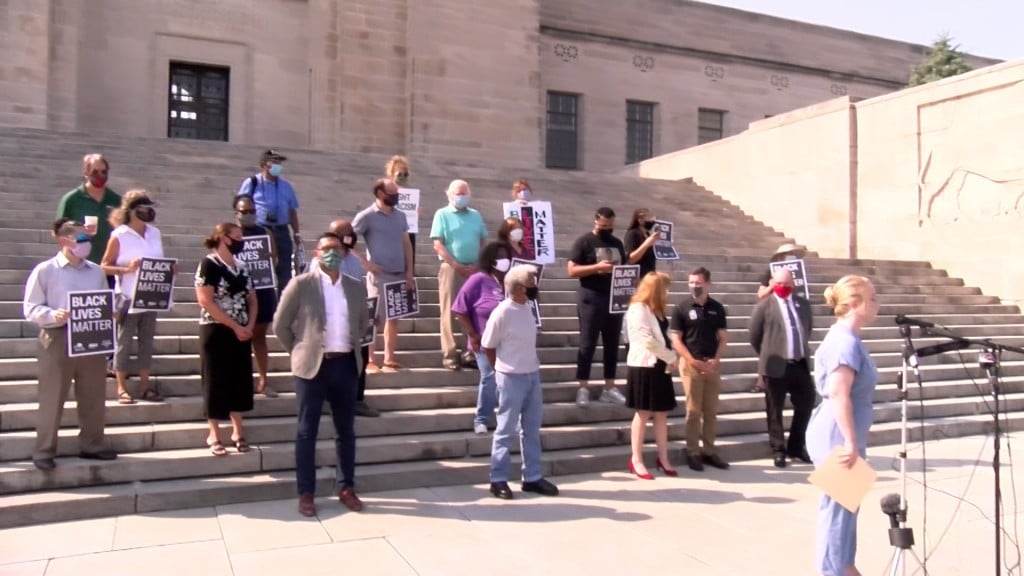 (LINCOLN, Neb.)- Some Nebraska senators want the legislature to get back to work, the governor says no.
Some senators say there's some unfinished business, especially after a governor's veto. On Tuesday, they were surrounded by a small crowd as they push for a special session.
"My answer to the question of why not just wait is simple, Nebraskans who are impacted by systemic racism and the COVID-19 pandemic can not wait," said Sen. Megan Hunt.
Senators delivered a letter to the Nebraska Secretary of State, demanding a special session be opened for racial justice. They stood on the steps of the Capitol, holding Black Lives Matter signs.
This comes after many BLM protests, and Ricketts vetoed a hair discrimination bill led by Senator Cavanaugh in the last session.
"Governor Ricketts exposed his racism by what he did in vetoing LB 1060," said Sen. Ernie Chambers.
"And during this time of racial justice, unrest, and continuing to see racial injustices across our country and across our state, we felt it was important to come together and to bring light to these very important issues," said Sen. Machaela Cavanaugh.
A supporter says this is an issue for all generations.
"It's important for young people to come and to listen because we are the future," said Paska Juma, with the Black Leaders Movement. "We're going to be the people that are voting. So, if you're 18 and you can, vote now. You're not supposed to wait until your 30 or 40 or 50."
Chambers used one of his last moments to speak at the capitol by saying he has hope in some legislators and urges protesters to vote.
"It's heartening to me to see that at least some of those who will remain, understand their duty, their responsibility, and the need for action," said Chambers. "There has to be an emphasis on all of the people demonstrating to register and then vote."
The letter has 11 signatures and needs 22 more senators to support the request. The governor's office told Channel 8 he does not plan to open a special session.