UPDATE: Body found north of Lincoln classified as homicide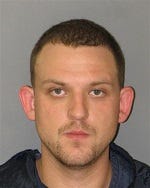 By: Sabrina Ahmed
SAhmed@klkntv.com
Early Sunday morning, a body was found North of Lincoln. The Lancaster County Sheriff's Office is now calling it a homicide.
25-year-old Tyler K. Schoenrock died from multiple gun shots wounds.
Early Sunday morning, a mail carrier discovered the body near North 1st and Bluff Road, about 20 minutes north of Lincoln.
Sunday, the Sheriff's Office said the death of the 25–year–old white male did not appear to be natural. We now know Tyler Schoenrock of Lincoln was murdered.
"It appears that the deceased suffered multiple gun shot wounds—several shell casings were located at the scene," Lancaster County Sheriff Terry Wagner said.
The Sheriff's Office will not release where or how many times the victim was shot. Officials say Schoenrock was shot and killed at the same location where the body was found.
The area of the shooting was processed as a crime scene for most of the day Sunday, the road did not re–open until 10 o'clock Sunday night.
One neighbor we spoke with says things like this just don't happen in this community. He asked not to be identified by name.
"It'd be one thing to hear about it happening in Omaha or even in Lincoln someplace. But not in rural Lancaster County," the man said.
At this point, the Sheriff will not say if they have any suspects. The investigation is ongoing.