Shrine Circus in Lincoln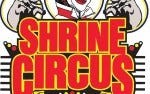 Posted By: KLKN
The Shrine Circus is in Lincoln for its 70th year with performances Wednesday, March 11th – Sunday, March 15th.

Tickets are on sale now – all seats reserved (subject to additional fees). Available at the Lancaster Event Center Box Office or: http://www.lancastereventcenter.com/

For questions please call the Sesostris Shrine Circus Office at 402-474-6890 – Office Hours are M-F from 8-4:30pm
Parking this year is free at the Lancaster Event Center. Proceeds are for the benefit of Sesostris Shrine activities.