Tracking snow chances for the weekend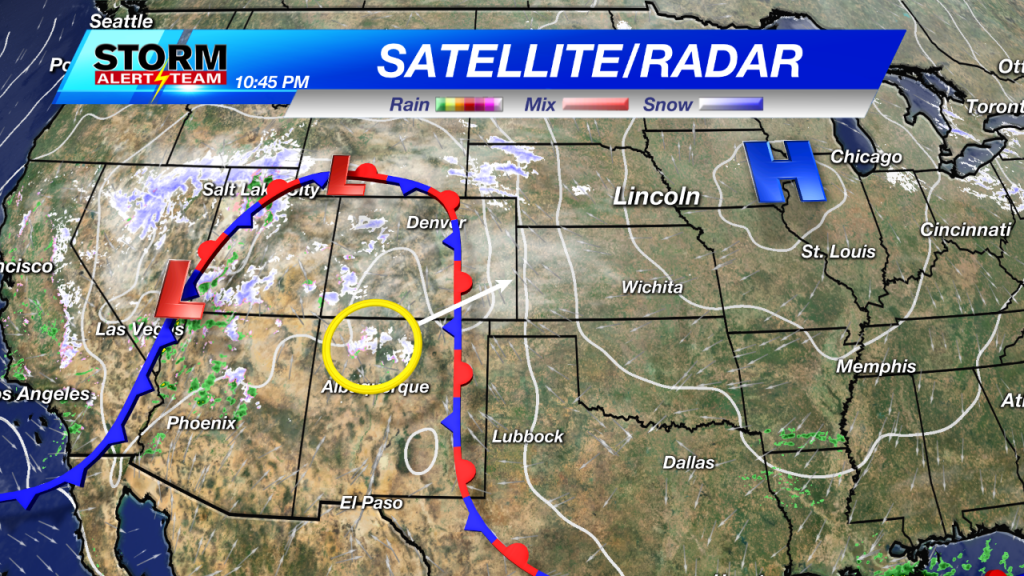 VIDEO UPDATE 10:46 P.M. FRIDAY:
ORIGINAL STORY 6:20 P.M. FRIDAY: Say goodbye to the mild weather we've been having and say hello to colder temperatures and snow as we have a pattern change happening. This will lead to a daily chance for snow Saturday through Wednesday.
Our first chance for accumulating snow comes Saturday afternoon. Upper-level energy is passing over Arizona Friday evening. The upper-level energy will spark snow development over northern Kansas, moving northeast in to eastern Nebraska Saturday.
High-resolution computer models suggests snow is falling on south-central Nebraska by noon Saturday.
Snow will continue moving northeast through eastern Nebraska – reaching the Lincoln area by mid-afternoon.
While this will not be a "significant" snow, this does have the potential to drop an inch or two of snow for some areas. While others, mainly south and west, will see little in the way of accumulating snow.
As of Friday afternoon it appears the Lincoln area could see 1″ to 2″ of snow by midnight Sunday.
Areas in south central Nebraska will need to be mindful as there could be enough low-level moisture to create slick spots on elevated surfaces.
High-resolution computer models suggests a narrow corridor of low-level moisture moving north from the Nebraska/Kansas state line to Grand Island and northeast towards Columbus.
The concentration of moisture is high enough to produce drizzle. Why this could be problematic is due to temperatures. They are projected to be 2° to 3° below freezing. Meaning, this could be in the form of freezing drizzle.
SNOW FOR END OF WEEKEND
A second weather system is projected to move out of the southwest United States and in to the Plains by the end of the weekend. The surface low with the system will pass over Oklahoma and in to Missouri by early Monday morning.
Moisture will be drawn up ahead of the low, spreading over Oklahoma, Arkansas, Kansas, Missouri, Illinois, and Nebraska. Nebraska will be on the north side of the low, meaning the state will be on the cold side of the system.
Temperatures throughout the atmospheric column are expected to remain below freezing. This means what falls in southeast Nebraska should be all snow.
There remains quite a bit of uncertainty as to how much snow could fall. It does appear this could be a shove-able snow. However, computer models are starting to suggest this weather system could pass further southeast, keeping moisture "tighter" to the low. This would allow for less moisture over the Channel 8 area. If this turns out to be the case this would be a lower snow.
On the other hand, one of the global computer models suggests the upper-level low could pass right overhead. This can often enhance snowfall. The model also lingers moderate to heavy snow falling over the area for a longer time leading to a higher snow total. Stay tuned!
– Chief Meteorologist John Dissauer
Follow John on social media:
Twitter: @JohnDissauer
Facebook: /DissauerWx