Tyson Foods requiring vaccinations effective October 1
The requirement impacts all team members in the United States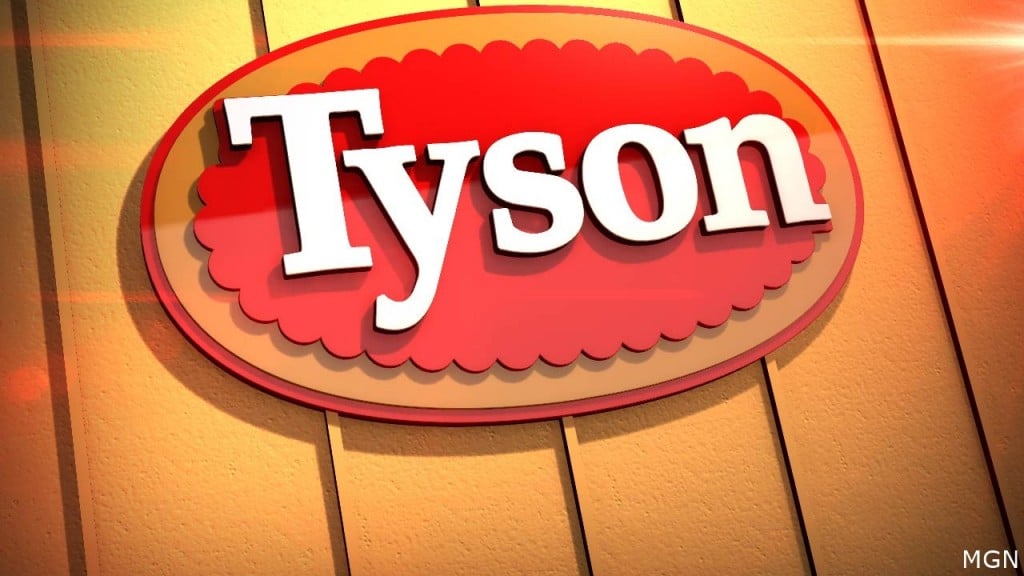 SPRINGDALE, Ark. (KLKN) – Tyson Foods announced Tuesday it will require all employees in the United States to get the COVID vaccination by October 1.
For locations represented by unions, that deadline is November 1. Tyson has thousands of workers here in Nebraska.
Senator Tony Vargas gave a statement in support of the changes saying:
"Since the beginning of the pandemic, I have worked to ensure that workers, their families, and our community would be safe and as protected as possible from COVID-19. The health and safety of Tyson's staff and workers should absolutely be a priority. As we move forward through this pandemic, it is critical that workers, employers, and community stakeholders come together — it's the only way we'll be able to beat this virus. I look forward to continuing to hear from and work with Nebraska's meatpacking workers."
Tyson's Chief Medical Office says this will make them the largest food company in the country to require vaccinations for all workers, adding half the workforce is already vaccinated.
Tyson Foods has many locations across Nebraska and in the surrounding states.
"Getting vaccinated against COVID-19 is the single most effective thing we can do to protect our team members, their families and their communities," said Dr. Claudia Coplein, Chief Medical Officer, Tyson Foods. "With rapidly rising COVID-19 case counts of contagious, dangerous variants leading to increasing rates of severe illness and hospitalization among the U.S. unvaccinated population, this is the right time to take the next step to ensure a fully vaccinated workforce."
Here's the memo to Tyson Foods team members from President & CEO Donnie King:
As people have heard, new variants of COVID-19 are more contagious, more deadly and responsible for most cases in America today. In some communities, doctors and hospitals are once again overwhelmed, while the U.S. Centers for Disease Control and Prevention is reporting nearly all hospitalizations and deaths in the U.S. are among those who are unvaccinated. It is abundantly clear that getting vaccinated is the single most effective thing we can do to protect ourselves, our families and our communities.
So today, like many other businesses, we are taking steps to protect all of these things by requiring all U.S. team members to be fully vaccinated. Team members must be vaccinated by the following dates:
All Tyson leadership (officers and above) by September 24, 2021
All team members in office by October 1, 2021
All other team members by November 1, 2021
All new hires must be fully vaccinated prior to their start date
Team members that are members of a union will be subject to the results of union bargaining on this issue
To our frontline team members: once you are fully vaccinated, and verified in our Vaccination Verification Program, you will receive $200 as thank you for doing your part to keep us all safe, subject to ongoing discussions with our unions.
We did not take this decision lightly. We have spent months encouraging our team members to get vaccinated – today, under half of our team members are. We take this step today because nothing is more important than our team members' health and safety, and we thank them for the work they do, every day, to help us feed this country and our world.
Exceptions to the vaccination mandate will involve workers who seek medical or religious accommodation.
"Tyson Foods and Matrix Medical have worked together since the beginning of this pandemic to develop and implement strategies to mitigate the risk of the virus to Tyson employees and their families, as well as the communities where they live and work," said Matrix Chief Medical Officer and Group President, Daniel Castillo, M.D., M.B.A. "Matrix clinicians, and Tyson team members have worked hand-in-hand to implement a broad array of workplace safety measures at Tyson, and we now feel the rising number of new cases across the U.S. warrants advanced clinical strategies – including requiring vaccinations."
Tyson Foods says it has spent more than $700 million related to COVID-19. This includes buying masks, setting up safety measures, and providing on-site tests and vaccination.