Update: Family overwhelmed by community support after U-Haul stolen, set on fire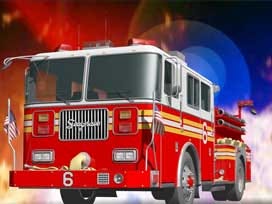 The Lincoln community has been reaching out to an Idaho couple that lost everything they owned.
A family new to Lincoln didn't get the welcoming they had hoped for.
They woke up Sunday morning to find their U-Haul missing from their motel parking log.
Bernice Olivas and her husband Logan Carraway moved to town from Idaho, to attend graduate school at UNL. The couple had packed up their life's worth into the U-Haul, traveled for two days and checked into a motel, ready for a new start in Lincoln.
Then, Sunday morning, they discovered the van and all of their belongings were missing. Bernice and Logan immediately called police. Logan says, "I saw the broken glass on the ground and thought someone stole our stuff."
Just hours later, the moving van was found not far away, in the parking lot of an apartment building on North 35th Street. They found the U-Haul still full, but it and all of its contents had been lit on fire. Bernice says, "It's the things I cant get back, like my wedding dress and the pictures of my son's first haircut."
Bernice says, "I was just kind of shocked because everything we owned was in that truck." She adds, "the hard part is the little boys' stuff. Both children are autistic and familiarity is very important to them and its stuff that can't be replaced."
Now, days later, the things that can be replaced, are being replaced by members of their new community. Bernice says, "I've gotten phones calls, 'what can we do? How can we help?'"
Calls from people wanting to donate a washer, a bed for her two boys and maybe even a place to call home. "A gentleman called saying he might have a rental unit."
The couple says at one point, they though, 'how do we move on with nothing?' but now, there's a way to go on. "There's overwhelming kindness from everybody."
If you would like to help Bernice and Logan, items can be taken to Lincoln First Church of the Nazarene. The address is 1901 South 70th Street. Drop offs will be taken by staff there from 8 am to 3 pm Monday through Friday
If you would like to help the victims, you can. Their friend, Amy Stone, is arranging for help. You can call her at 208-880-5629.