UPDATE: Humane Society confirms shot dog had behavioral issues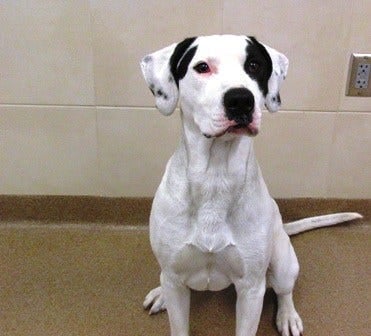 Posted By: Camila Orti
Photos provided by Capital Humane Society and Lincoln Police Dept.
Lincoln police say an officer shot and killed dog after it charged at him and jumped on his chest.
The owners say they had no reason to think their dog would attack anybody, until the Capital Humane Society released more details about the pet's history.
"It's one of those things you keep asking yourself, did this really happen?" the dog's owner John Markey said.
Markey had to watch his 40-pound pointer mix puppy die after it was shot by a Lincoln officer, who police believe acted in self defense. Officer Jason Brownell was following up on an unrelated minor traffic accident at Markey's home near 65th and Leighton around 6:45 p.m. Brownell was waiting outside on the sidewalk when Markey says his dog, Max, suddenly bolted.
"He ran downstairs, got past the screen door and ran to the officer," Markey said.
Chief Jim Peschong says the dog charged at Brownell, jumped on his chest and caused him to stumble back. That's when Brownell fired two shots. Audio recorded from the officer's pocket recorder captured the incident. You can hear barking getting louder, a short struggle and then two quick gunshots followed by a screamed "stop!" After calling for animal control and a supervisor, Brownell says "Sir I'm sorry he went after me, I'm really sorry."
"This was the snap of your fingers and this dog was on him," Peschong said.
Peschong believes the audio supports what officer Brownell reported. A photo taken by the police department shows a scratch on the back of Brownell's neck.
Markey says he and his wife had just adopted the one-year-old from the Capital Humane Society a week ago.
"I never had a problem with him going after somebody," Markey said.
President of the Capital Humane Society, Bob Downey, told Channel 8 that Max's history reveals that his previous owner had run-ins with law enforcement. Downey says the dog was conditioned (not trained) to not like police officers. He says this information was in the adoption center's system, but not given to the dog's new owners. Downey says he feels "horrible about it."
"We're very sorry on numerous levels to numerous entities that this incident happened and that includes LPD, it includes the officer and it includes the Markey family," Downey said.
"I can't hold the officer responsible," Markey says, "I think he just reacted to the situation put in front of him."
Markey says Max died on scene within a few minutes. Lincoln police are investigating to make sure all policies were followed, but the officer involved is still on duty.
Peschong says LPD officers undergo special "aggressive dog training" to learn about positive pressure and how to avoid fatally shooting a charging dog. Police say they are putting together additional training. This is the second incident involving an officer shooting a dog in the last month, which Peschong says is unusual.
The Capital Humane Society says they will make additional information public at Tuesday morning's police briefing. Stay with Channel 8 for the latest.