What's Open: Russ's Market employees talk customer kindness amid chaos
Russ's Market is one of the many area grocers staying open during the COVID-19 pandemic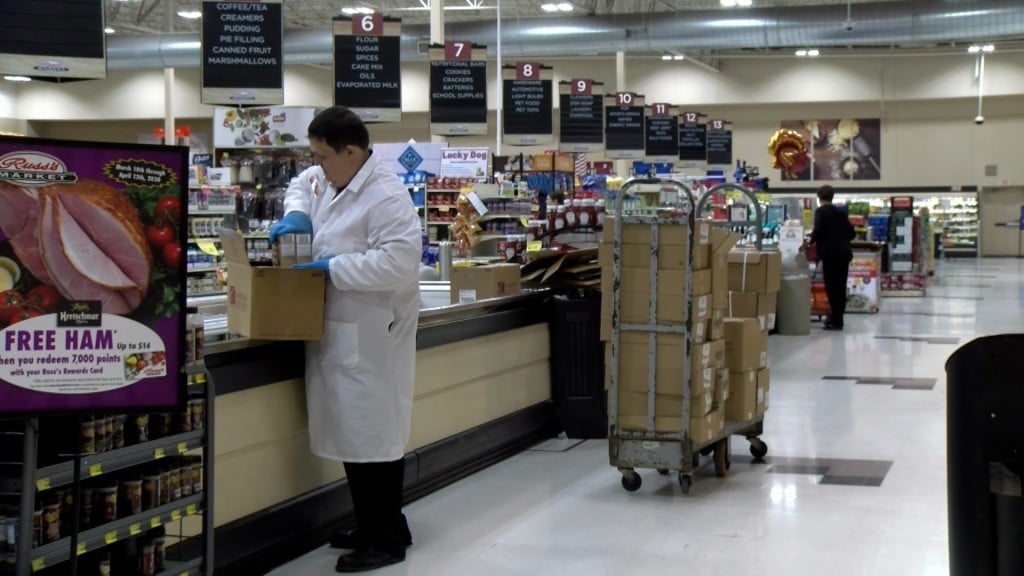 For about a month, grocery stores have been some of the busiest locations around the country, and the scene is no different for the South Coddington and West A Russ's Market.
"Lots of shoppers, lots of shoppers buying lots of things, the basket size has increased quite a bit, the average sale has gone up quite dramatically," says store director Chris Piper.
Piper says aside from an increase in demand, the biggest changes within the store – abiding by social distancing rules and increased sanitation – has been handled well by employees as well as customers.
Dave Shuman, the store's meat manager, has been an employee at Russ's for 20 years. He says the first weeks of the pandemic was chaos.
"It was absolute nuts, you'd come in a six in the morning and there's a line of people out the door it was just go go go go, lot of stress, pressure. The last couple weeks it's been kinda nice. . . I wouldn't say its slowed down but its stabilized," Shuman says.
Jeff Palmer started working at Russ's part time about a year ago. Now – his part time job has become a full time job.
"You just take it as you can and do what you can to get everyone out as quickly and efficiently as possible," Palmer says. 
But although the pandemic has brought stress and anxiety, the employees at Russ's says it has also brought kindness and appreciation.
"Even at first though I will say that the vast majority of customers were awesome," Shuman says.
"We've got cards that I've posted for the entire team that say thank you," Piper says. 
"They started telling us they appreciate us being here which before they kind of took it for granted but this has kind of changed everybody's opinions," Palmer says. 
And for the first time in years, Russ's was closed on Easter to show a little extra love to their employees and give them a break from all their hard work.
To see what other businesses are open around the Capital City, you can visit Channel 8's What's Open page.