2019 Women's March takes center stage in Lincoln on Sunday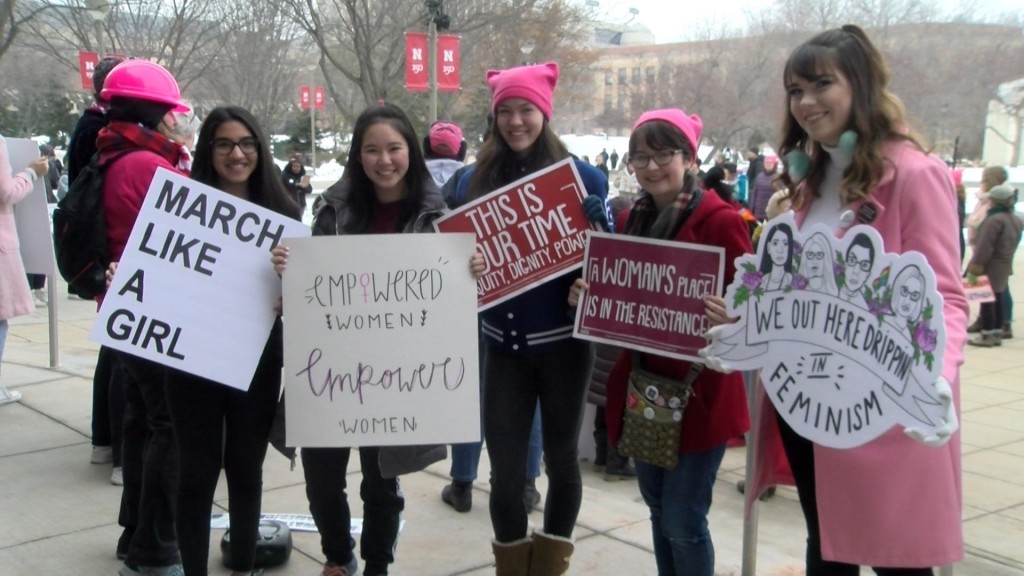 The annual Women's March, which was postponed last weekend due to cold weather and snow, was in full swing on Sunday.
Hundreds gathered at the UNL student union before making the trek south to the state capitol building.
A few students from the University of Nebraska-Kearney made the drive to Lincoln to be there.
"I came, because I'm so young compared to some of the women here. Marching for them and what they have fought for, for so long. Women didn't have the right to vote for so long. Along with that, women's health issues and our environment," said Lena Schlegelmilch.
Dane Schmitt was a first time marcher.
He wanted to join his female friends in camaraderie with the united message of the march.
"Yes, I am a man at a women's march and that's incredibly important because we want men standing with women. It's not bad to be a man and a feminist," said Schmitt.
More than a thousand people marched a year ago, and Sunday's march drew a big crowd as well.
Lisa Brown-Olsen was raised in a conservative household… She says she has now shifted to a more independent viewpoint. She was a first time marcher as well.
"It's awesome to be with other people who also want to see change and don't want to see the status quo to be that. If we don't step up, those who are in charge will stay in charge and those policies that have always been in place will stay in place," said Brown-Olsen.
University of Kearney students say since their area doesn't have a march, they wanted to participate in on of their own.
"To be able to go out and actually march for something and to stand up for a cause, and just to see everyone around who wants to support the same thing as you, it makes you feel more powerful," said Schlegelmilch.
After arriving at the state capitol building, there were several speakers covering a wide range of topics, including reproductive rights, violence against women, and rights for both the LBGTQ and disabled communities.
"I've seen enough, I'm a grandmother. I don't want my grandchild to have to do the same thing that my grandmother had to do. This is ridiculous that we are here again doing the same thing and having to talk about the same things over and over. We should be able to grow and go forward. Not left, not right, forward," said Brown-Olsen.