Alden German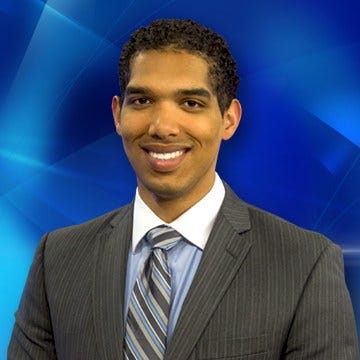 Alden German is from Kansas City, KS. As a child he was terrified of severe weather, but loved snow. "I vividly recall dragging my parents to the basement to watch the weather people on TV explain what was going on. Even long after the storm passed my house, I would still watch." His most vivid weather memory is probably the 2003 tornado outbreak that struck Kansas City, including a tornado that missed his home by only a few miles.
Alden says his passion for weather developed out of fear. "I decided that I wanted to be able to help calm any kid that might be just as scared of bad weather as I was, and to inform and protect the public from danger," says Alden. This passion and the desire to learn more about the weather led him to the University of Kansas where he graduated with a Bachelor's of Science degree in Atmospheric Science with a minor in Journalism.
Before joining Channel 8 Eyewitness News, he was weather producer at KUJH-TV, the student television station at the University of Kansas in Lawrence. He caught the attention of the local cable station in Lawrence and became a substitute weather anchor his junior year of school, filling in whenever the Chief Meteorologist wasn't available. Viewers can see Alden, weekends during Channel 8 Eyewitness News.
Alden says he's a bit of a bookworm and enjoys visiting the Humane Society, where he hopes to volunteer. Alden is band nerd too, with a big appreciation for music. He has been playing the trombone since 5th grade, having also played trombone in the Marching Jayhawks at KU, and was a member of the women's basketball band. Jazz may be his favorite genre. He loves sky gazing, especially at sunset and developing thunderstorm and enjoys filming time lapses of them.
agerman@klkntv.com
Facebook-Alden German Channel 8 Eyewitness News
Twitter-AGermanKLKN