Osborne announces retirement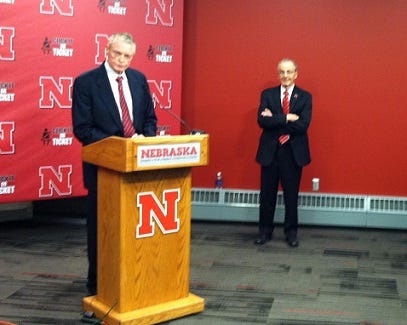 Posted By: KLKN Newsroom
8@klkntv.com
At a news conference, NU Athletic Director Tom Osborne announced his retirement effective January 1st.
The 75-year-old Osborne announced his decision Wednesday at a news conference. He says "the perception'' that you're getting old "can get in the way.'' Osborne says he doesn't want to be a distraction.
Osborne was one of the most successful football coaches in history. Every one of his 25 teams won at least nine games, and three of his last four teams won national championships. He was inducted into the College Football Hall of Fame in 1998, the year after he retired.
After serving in Congress and losing a gubernatorial bid, he returned to the university in 2007 to take over the athletic department and oversee the rebuilding of the football program and shepherd the school's move from the Big 12 to the Big Ten.
The 75-year-old Osborne says a search for his replacement will get underway. Osborne retired as Nebraska's head football coach in 1998 and returned in 2007 as the 13th athletic director at the University of Nebraska.
On Jan. 1, Osborne will become athletic director emeritus. He will continue to be involved in Athletic Department operations through July, 2013. "It's been a real privilege to work with Tom over the last five years," UNL Chancellor Harvey Perlman said at the Wednesday morning news conference. Perlman says a national search consultant has already been hired to assist in the search for the new athletic director. He says he has already begun interviewing candidates for the position.
The University of Nebraska released this bio about Osborne:
Osborne returned to his Husker roots on Oct. 16, 2007, to become the 13th athletic director at the University of Nebraska. He accepted the position at the time because, Osborne said, "Harvey Perlman asked me."
Husker athletics and the university have seen unprecedented growth in facilities over the past five years. Osborne is overseeing three major athletics construction projects: the development of the Pinnacle Bank Arena (a city of Lincoln project), home to the Husker basketball programs upon its completion in fall 2013; the East Memorial Stadium expansion project, to expand seating capacity of the stadium to 92,000 and accommodate the development of a health/athletics performance research facility and a Center for Brain, Biology and Behavior research, (also by fall 2013); and planning major renovations to the Bob Devaney Sports Center for volleyball, set to begin in 2013. He oversaw the development of the Hendricks Training Complex (which opened in October 2011) and the development of the Student Life Complex in the West Memorial Stadium in 2009, the Haymarket Park Indoor Practice Facility for baseball and softball (2011) and the Alloy Strength Complex (2011).
Holder of master's and doctoral degrees from the University of Nebraska in educational psychology, Osborne said he probably would not have considered coaching if he had not met Bob Devaney, who in 1962 asked him to become a volunteer graduate assistant on his staff. He served 25 years as head football coach at Nebraska, 1972 to 1997 — the longest tenure in school history. Under Osborne's direction, the program achieved remarkable success, exceeding any in its rich history. The Huskers mounted a 255-49-3 record under Osborne, good for a winning percentage of .836 and won three national championships (1994, 1995, 1997). The 255 victories are the sixth-most all-time among major college football coaches while the winning percentage ranks fifth all-time. He announced his retirement from coaching prior to defeating Tennessee in the 1998 Orange Bowl for Nebraska's fifth national title.
His achievements were so highly regarded that the National Football Foundation waived its three-year waiting period so that he could be inducted into its Hall of Fame in December of 1998. He is one of only four coaches in history to have the mandatory three-year waiting period waived.
As athletic director, Osborne quietly re-established an athletic department mission based on five core values — integrity, trust, respect, teamwork and loyalty.
Since 2007, Osborne has hired six head coaches: Bo Pelini (football), 2008; Chuck Chmelka (men's gymnastics), 2009; Darin Erstad (baseball), 2011; Dave Harris (cross country), 2012; Tim Miles (men's basketball), 2012; and Stacy Underwood (rifle), 2012.
Retiring from football coaching following the 1997 season, Osborne found several ways to stay active in his home state. His most visible post-coaching foray came in the political arena, as he served three terms in the U.S. House of Representatives from Nebraska's 3rd District from 2000 to 2006. He also made a gubernatorial bid in 2006 before turning to academia.
A native of Hastings, Osborne served as a senior lecturer at Nebraska in the College of Business Administration, teaching leadership and business ethics, in the spring and fall semesters in 2007. He completed the fall semester while working in the athletic department.
Widely known for his leadership, integrity, honor and compassion, Osborne has poured time and effort into building a unique mentoring program within the state. The TeamMates program, founded by Osborne and his wife, Nancy, in 1991, provides support and encouragement to school-aged youth with the goal of seeing children graduate from high school and pursue a post-secondary education. He said he would use his retirement to become more active in TeamMates.
In the classroom, Osborne's teams were just as successful as they were on the field. At the time of his retirement, he accumulated more football Academic All-Americans in his 25 years as coach than any other football program in the nation had produced in its history. Under Osborne's guidance, the Husker football program totaled 65 CoSIDA Academic All-America awards in 25 years, averaging more than two selections per season. Osborne biographical highlights:
Administrative Experience:
> Nebraska, Athletic Director 2007-present
> U.S Congress, 3rd District (Nebraska) 2000-06
> Nebraska, Head Football Coach 1973-97
> Nebraska, Assistant Head Football Coach 1972
> Nebraska, Assistant Football Coach 1967-71
Educational Ledger:
> Nebraska, Ph.D. in Educational Psychology 1965
> Nebraska, M.A. in Educational Psychology 1963
> Hastings College, B.A. in History 1959
Personal Information:
> Date of Birth: Feb. 23, 1937
Channel 8 Eyewitness News will have more from the news conference and reaction tonight at 5, 6 & 10.