Authorities identify man shot in officer shooting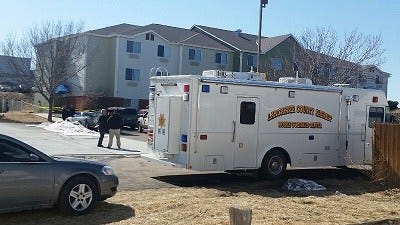 Posted By: Jenn Hatcher
jhatcher@klkntv.com
At approximately 10:45 A. M. Thursday, officers of the Metro Area Fugitive Task Force were attempting to serve an arrest warrant at the Motel 6, located at 6501 N. 28th street in Lincoln when 34 year old Tyson Hubbard of Omaha was shot. He was being sought for a felony warrant charging 2nd Degree Assault, a Class 3 Felony.
Hubbard was observed exiting the motel and was contacted by officers as he was getting into a vehicle. Hubbard resisted arrest and was struggling with officers. A handgun was recovered from the vehicle at the scene. He was pronounced dead at a Bryan West Emergency Room. No Law Enforcement Officers were injured.
Deputy U.S. Marshals, Sheriff's Deputies and Lincoln Police Officers were present at this scene. Neither the officer's nor the agency's identity will be released at this time. Further information will be released by the agencies involved, according to their policies and practices.
The Lancaster County Sheriff's Office is conducting the investigation into the shooting for the Grand Jury, as required by law. The Sheriff's Deputies involved will be placed on administrative leave pending an Internal Investigation. An autopsy will be conducted to determine Hubbard's cause of death.
The Metro Area Fugitive Task Force is comprised of officers from the U.S. Marshal's service (USMS), Lancaster County Sheriff's Office (LSO), Lincoln Police Department (LPD), and other area law enforcement agencies. Fugitive apprehension is one of the USMS's prime missions and one which has the greatest effect on public safety. U.S. Marshals arrest approximately 33,800 federal absconders annually in addition to apprehending 71,000 state and local fugitives through our vast network of fugitive task forces. U.S. Marshals task forces serve as force multipliers for state and local law enforcement, ensuring the greatest protection to the public by focusing on the most egregious fugitives and maximizing limited resources.