Benefit for 3-year-old girl with immune disorder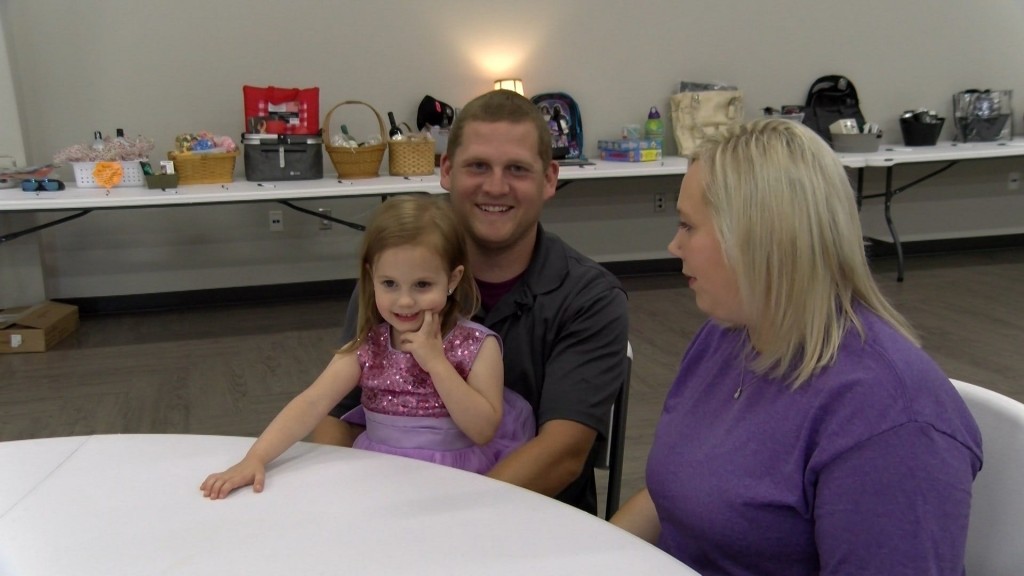 Tenley Neemann is just 3 years old and has has already seen a lifetime of doctor visits.
Today, a local banquet hall held a special silent auction benefit to help with her journey ahead.
Tenley Neemann was diagnosed with immune and mobility disorders at infancy. Her body has trouble with a specific antibody deficiency and the delayed response in the neural link between her brain and colon, which makes life pretty hard for a toddler.
"She was getting sinus infection after sinus infection, numerous sets of tubes she had to have and she had her adenoids out, her tonsils out," her father, Ian Neemann said.
The Neemanns visit an immunologist where she is prescribed Hizentra infusions regularly, and a gastroenterologist for colon help.
The Hizentra adds the antibodies her body is not yet able to produce.
"Boost her immunity basically, so that she can go play like a normal child and not risk being cooped up in a hospital with pneumonia and bronchitis and all of those other types of things that her body takes really harsh to," her mother Kyliane Neemann said.
The treatment just doesn't cut it, so the Neemanns have been forced to make a journey to Boston, to seek top notch help, which is costly.
"We're going to have to pay for all the travel and hotels to stay there and since it's a bigger city it's a hefty price," Mr. Neemann said.
The community came together to hold a silent auction where proceeds go to the Neemann family for their journey.
Tonight hosted 80 donors, as well as the numerous guests that floated through the event doors.
"We are beyond grateful with the community of not only Lincoln, but I'm from Omaha and Omaha has been just as generous as Lincoln and so it's been very helpful," Ms. Neemann said.
The Neemann story has just begun.
"She's a strong little girl and I don't think anything is gonna stop her," Mr. Neemann said.
Tenley will have to take Hizentra until the age of 5, but the Neemanns are hopeful that this little push by the community will help the sparks fly when they get the treatment they need in Boston.
You can help donate for their trip and medical expenses by contacting Liane Prucha at 402-680-2716 and Shelby Wolf at 801-865-9533.