Berlin Terror Attack Suspect Shot Dead In Milan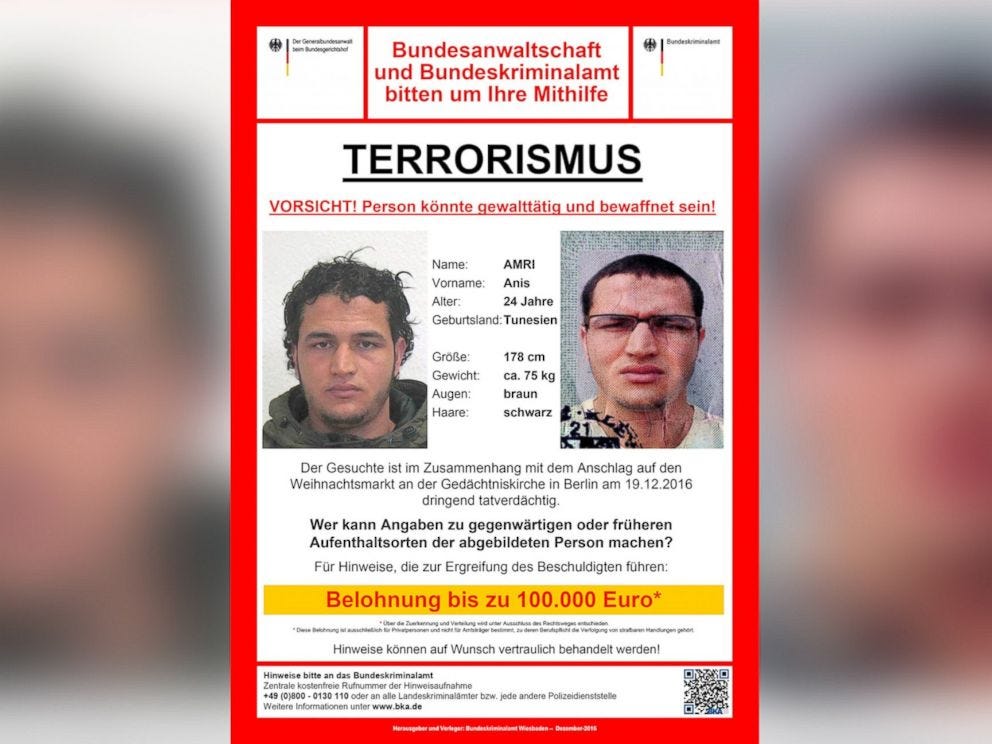 Posted By: Fahima Paghmani
fpaghmani@klkntv.com
Abc News: Anis Amri, a suspect in the terror attack on a Berlin Christmas market that killed 12 and injured 48, including two Americans, has been killed in a shootout with police in Milan, the Italian Interior Ministry said on Friday.
Italian Interior Minister Marco Minniti confirmed at a Friday morning press conference that the person shot dead by Italian Police is "beyond any shadow of a doubt," Anis Amri.
Minniti said that police stopped Amri near a train station in the Sesto San Giovani area of Milan in a routine check. Amri shot at and wounded at least one of the officers when he was asked for his documents. Police returned fire, killing him, Minniti said.
Amri became the subject of an intense Europe-wide manhunt after Monday's attack and had managed to evade authorities until Friday's shootout, which took place at about 3 a.m.
Officials have pointed to him as the likely culprit behind the attack, citing evidence left behind at the crime scene.
"We can tell you today that there are additional clues that this suspect is, with very high likelihood, the perpetrator," German Federal Interior Minister Thomas de Maiziere told reporters at a press conference on Thursday.
"Fingerprints in the cab of the truck have been found, and there are also other clues that suggest that [he is the perpetrator]."
Amri's fingerprints were discovered on the steering wheel, on the driver's side door and elsewhere in the cab of the tractor-trailer that was used on Monday to plow into a crowded Christmas market at Breitscheidplatz, a public square in the heart of Berlin, according to Frauke Koehler, a spokeswoman for the German federal prosecutor's office.
The 24-year-old Tunisian national went by six different aliases and was considered "violent and armed," according to a warrant issued in Germany for his arrest. Officials offered a reward of up to 100,000 euros ($105,000) for information leading to his arrest.
Amri was known to U.S. intelligence agencies prior to the Berlin attack, a national security source told ABC News. His remains were identified by his physical features and fingerprints, Italian news agency ANSA reported.
ISIS claimed responsibility for Monday's assault, calling Amri "a soldier of the Islamic State," in a statement released by the terrorist group.