Cain Excited to Pursue Pro Career
Nebraska senior Kate Cain rewrote the Husker record book in her four seasons in Lincoln.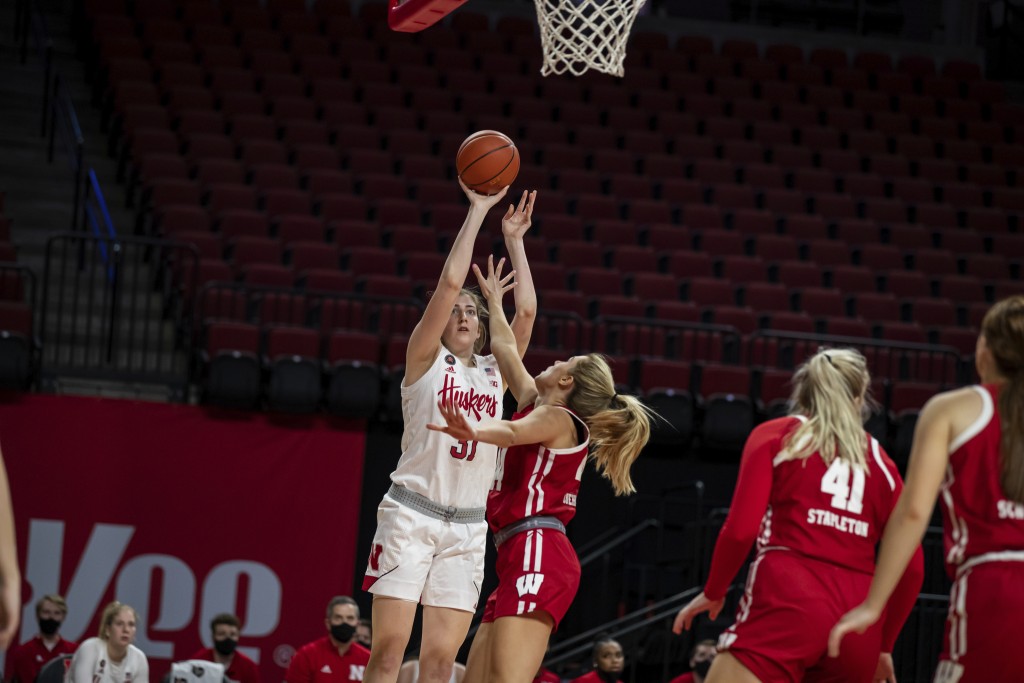 LINCOLN, Neb. (Nebraska Athletics) – Nebraska senior Kate Cain rewrote the Husker record book in her four seasons in Lincoln. The 6-5 center from Middletown, N.Y., shattered the Husker career blocked shot record with 352 in her 118-game career – 114 blocks more than previous record holder Janet Smith. Cain's total ranked sixth in Big Ten history and was No. 2 among active NCAA Division I players in 2020-21.
A graduate student at Nebraska who earned her bachelor's degree in management in just three years on campus, Cain has chosen to forego an extra season of eligibility granted by the NCAA, in order to pursue her dream of playing professional basketball.
Cain recently declared for the upcoming WNBA Draft (April 15), but she knows a selection is not guaranteed. She is hoping one of the 12 WNBA teams will call her name among the 36 total picks during the three rounds on draft day, but if not, she is excited about the potential for a career overseas.
"I am so thankful for all the opportunities I have had at Nebraska," Cain said. "The coaching staff, support staff and most of all my teammates, have been amazing and I will always be so appreciative of all of them. They have helped me grow so much as a player and a person over the past four years. I got to go head-to-head with some of the best players in the nation on a nightly basis in the Big Ten Conference and play in the NCAA Tournament. I got to play in front of the greatest fans in college sports at Pinnacle Bank Arena. I also earned my degree and got a year of graduate school as well. It has been an incredible experience. I am now looking forward to pursuing my dream of professional basketball. I know it will not be easy, and I know there are no guarantees, but I know I am willing to put in the work, and I have a great support system behind me both with my family and at Nebraska."
In addition to closing her career as Nebraska's record holder in blocked shots, Cain finished with 1,085 points and ranked eighth in school history with 780 rebounds. She started 117 consecutive games and finished in the top 10 in school history in career starts. A three-time Big Ten All-Defensive Team selection, Cain was a three-time candidate for the Lisa Leslie Award and was one of 15 candidates for the Naismith Defensive Player-of-the-Year award in 2021. A two-time honorable-mention All-Big Ten choice, Cain was also a three-time Academic All-Big Ten selection.
Nebraska Coach Amy Williams she and the Husker program are excited to support Cain as a professional.
"We are so proud of Kate and all she has accomplished at Nebraska," Williams said. "We are excited to watch her pursue her dreams of professional basketball. She has our full support and we will be cheering for her success in the future."